According To Greta
(2010)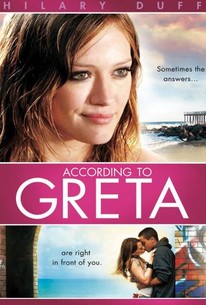 According To Greta Photos
Movie Info
Hilary Duff and Evan Ross star in this interracial teen romance about a waitress whose summer romance with an ambitious cook is threatened when her grandparents (Ellen Burstyn and Michael Murphy) voice concern about her new boyfriend's criminal history.
Critic Reviews for According To Greta
Audience Reviews for According To Greta
One of the better roles i have seen Hilary Duff in. I was expecting just a nice teen type movie out of this, but it was a little darker than I expected, and deals with some serious issues. Of course it does not delve as deeply in as it could do, as I think they were still aiming at a teen audience here, and it does of course, tie up neatly by the end, which it probably wouldn't really in real life, but still quite a good film I think. Rewatch 2017 - well, it's obvious I'm 10 years older than last time I watched this- it's still a good teen movie, and Hilary is fantastic as Greta, but wow she's hard to like. She's a rude, disrespectful little cow for most of this, and I was vouching for her grandparents to send her packing off home. Why should anyone put up with that in their own home, grandchild or no. Of course it's a movie, so there is redemption at the end and when you meet the mother, things become a little clearer. Unlike real life where many have the bad attitude without the dark past.
Nicki Marie
Super Reviewer
Cast: Hilary Duff, Ellen Burstyn, Michael Murphy, Evan Ross, Melissa Leo, Maury Ginsberg, Vivan Dugré, Oren Skoog, Kelly Sullivan, Tsianina Joelson Director: Nancy Bardawil Summary: Dumped on her grandparents (Ellen Burstyn and Michael Murphy) for the summer by her indifferent mother (Melissa Leo), acerbic and self-destructive teenager Greta (Hilary Duff) disrupts the elderly couple's staid life on the Jersey Shore in this coming-of-age melodrama. But eventually, a romance with a charming short-order cook (Evan Ross) and the unconditional love of her grandparents help Zoe face down her demons. My Thoughts: "The story-line was OK, and it dealt with some dark issues and had a pretty good cast (Melissa Leo and Ellen Burstyn). But my major issue, and maybe it's just me, was Hilary Duff as Greta. I just didn't think she pulled the role off. She just didn't do it for me. For me, she just didn't connect with the character Greta at all and was unbelievable in the role. She seemed to over act and that always hurts a scene and the film. When you see a film you don't want to see an actor try and act the part, you want to believe and feel they are the character. So it was a miss for me, but still worth taking a look at for the story-line."
♥˩ƳИИ ƜѲѲƉƧ♥
Super Reviewer
½
Crash course with life and growing up... it was a pretty okay watch. Probably not a second-view type of film though.
Leigh Ryan
Super Reviewer
According To Greta Quotes
There are no approved quotes yet for this movie.