Ace Ventura - When Nature Calls
(1995)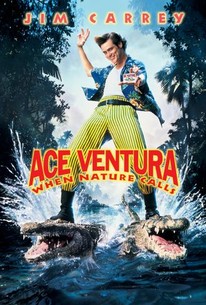 Ace Ventura - When Nature Calls Photos
Movie Info
Looking for an evening of high-brow, intellectually stimulating, cinematic entertainment done with sophistication and panache? Look elsewhere! This riotous sequel has very little plot and scads of deliciously vulgar, politically incorrect and just plain idiotic humor as presented by the master of rubber-faced lunacy, Jim Carrey. As a sort of prologue, the great pet detective is assigned to rescue a racoon stranded on a steep Himalayan hillside. After much danger, Ace manages to reach the stranded critter only to accidentally send it hurtling to its death. Devastated, poor Ace enters a Tibetan monastery to search for peace. His quest is interrupted when a British emissary arrives and begs him to head for Africa to locate a stolen sacred white bat. If he does not, two warring tribes will abandon their peace-treaties and resume their bloody feud. Poor Ace is terrified of bats, so that is perhaps why the emissary declined to tell him what kind of creature he was seeking until it was too late for Ace to back out. Once in Africa, the mayhem really begins as he embarks upon a series of utterly tasteless and silly exploits that do not preclude a little social commentary at the expense of the Brits and a subtle message for animal rights.
News & Interviews for Ace Ventura - When Nature Calls
Critic Reviews for Ace Ventura - When Nature Calls
Audience Reviews for Ace Ventura - When Nature Calls
'Why What a lovely Room of death'! I do enjoy this movie, i prefer it to the first one as its far more entertaining and funny! Its a typical JIm carrey role really and although theres not much about this movie that you can say is brilliant but if you just look for a silly stupid Jim carrey movie that will lighten your rainy afternoon then this is the movie to watch!
Film Crazy
Super Reviewer
Even funnier than the first film. In this one we see Carrey do a lot more of his trademark physical comedy. A lot of critics didn't like this movie, but it is rightfully considered one of the movies they got wrong. It's too bad that the straight to video 2nd sequel about his "son" who is a "Jr. Pet Detective" actually exists. What's worst of all though is that his son in the 3rd film mentions his dad got lost in the bermuda triangle in this film. Ace you'll be missed forever.
Directors Cat
Super Reviewer
½
Best comedy ever...with Jim Carrey at his best
Martin Sahlin
Super Reviewer
Ace Ventura - When Nature Calls Quotes
| | |
| --- | --- |
| Ace Ventura: | You know, you could poke somebody's eye out with that thing. |
| | |
| --- | --- |
| Fulton Greenwall: | Please forgive me sir but if we don't hurry now, we might miss the plane. |
| Ace Ventura: | Of course. how selfish of me. Let's do all the things that you wanna do. |
| | |
| --- | --- |
| Ace Ventura: | .What's that he's saying? |
| Ace Ventura: | What's that he's saying? |
| Fulton Greenwall: | Well I think he's saying she's not a virgin. |
| Ace Ventura: | They can tell that? |
| | |
| --- | --- |
| Ace Ventura: | Do not pass GO! Do not collect 200 dollars. |