Acolytes
(2011)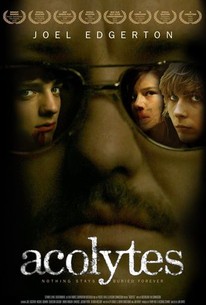 Movie Info
Teenagers Mark (Sebastian Gregory) and James (Joshua Payne) are victims of Gary Parker (Michael Dorman), a local thug not much older than them who has brutalised and abused them all their lives. In their last year of high school, James and Mark find a way to stop being victims. They're going to kill Gary... -- (C) IFC Midnight
Critic Reviews for Acolytes
Audience Reviews for Acolytes
I was totally engrossed by the first hour of this Aussie thriller before it sadly ran out of ideas. Director Jon Hewitt creates some brilliant atmosphere while cinematographer Mark Pugh puts together stunning compositions. The most obvious influence is Tarkovsky, especially in an elaborate homage to the kiss over a ditch in "Ivan's Childhood". Joel Edgerton is great as the moustachioed serial killer blackmailed by teenagers out of their depth. For fans of brooding atmosphere only.
The Movie Waffler
Super Reviewer
½
From the 2008 Screamfest List. Cool things about a lot of these movies on different film festivals is that in most cases they have films that one would normally miss. And I am glad I found this hidden gem. What I thought by reading a film review was that I was in for another teeny bobber film, it was far from that. A well written film with tons of suspense and a twist at the end that I didn't see coming. Well worth the watch and I will add to my collection. 4 1/2 stars.
Bruce Bruce
Super Reviewer
Ive thought about this and I have to admit I'm struggling to remember a recent Australian film I didnt like. This was a great movie with a superb story and typical antipodean charm. Two boys abused by a loon in their early years find a body and hatch what initially I thought would be a bloody stupid plan...see how wrong I was.....Not your normal run of the mill serial killer sketch either....good tense thriller with a twist....
Barry Lappin
Super Reviewer