Across the Pacific
(1942)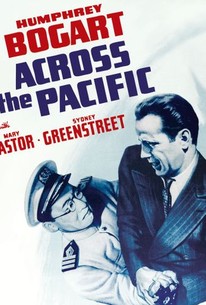 Across the Pacific Photos
Movie Info
Across the Pacific plays like a "rite of passage" between Maltese Falcon and Casablanca. Humphrey Bogart plays an American army officer (named "Rick") dishonorably discharged from the service. Actually his "disgrace" has been carefully arranged by the US government, the better to allow Bogart to investigate prewar espionage activities. While on board a Japanese ship bound for the Panama canal, Bogart makes the acquaintance of Sidney Greenstreet, a Briton with pronounced pro-Japanese sentiments, and Mary Astor, a fashion designer who seems to be harboring a secret (both Greenstreet and Astor were, of course, Bogie's Maltese Falcon costars).Also on board is American-educated Japanese martial arts expert Victor Sen Yung, whose amiable demeanor masks a duplicitious nature. After much chasing about in Panama, Japan and Manila (including a remarkable sequence in a Japanese movie theatre), the principals gather at the Panama plantation of Astor's disippated father (Monte Blue), who is held captive by the Japanese to ensure Astor's cooperation. The spies' master plan is to destroy the Panama Canal (allegedly the script had called for the sabotaging of Pearl Harbor!) The story goes that director John Huston left poor Bogart in an inescapable situation, then left for Washington to work for the government, obliging the actors, the scriptwriters, and new director Vincent Sherman to come up with their own denouement. This story, which improved with the telling over the years, may well have been Huston's easy-out to excuse the ludicrous burst of melodramatics with which the film concludes. Across the Pacific is fun on a nonthink level, though the rapport between Humphrey Bogart and Mary Astor, so vital to the success of Maltese Falcon, seems strained when the actors are required to spew wisecracks.
Critic Reviews for Across the Pacific
Audience Reviews for Across the Pacific
½
Though a failure for Huston and Bogart compared to it's predecessor (The Maltese Falcon), this political thriller still entertains. Features great performances from Bogart and Greenstreet.
Graham Jones
Super Reviewer
½
A product of it's time, Across the Pacific was made more for the war effort than for it's cinematic merits. If the cast seems vaguely familiar it's because many of them, including director John Huston, worked together on The Maltese Falcon just the year before. This one is minor league compared to it's predecessor, but it's still replete with Mary Astor's charm and Humphrey Bogart's machismo and that alone makes it worth watching.
Randy Tippy
Super Reviewer
bogey and greenstreet work well together once again in this excellent tale of intrigue. the twists are great and the story is told well in what is an underrated classic helmed by the great john huston.
Across the Pacific Quotes
There are no approved quotes yet for this movie.