Across the Universe
(2007)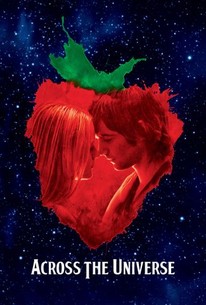 Across the Universe Photos
Movie Info
"Across the Universe" is a love story set against the backdrop of the 1960s amid the turbulent years of anti-war protest, mind exploration and rock 'n roll, moving from the dockyards of Liverpool to the creative psychedelia of Greenwich Village, from the riot-torn streets of Detroit to the killing fields of Vietnam. The star-crossed lovers, Jude and Lucy, along with a small group of friends and musicians, are swept up into the emerging anti-war and counterculture movements, with "Dr. Robert" and "Mr. Kite" as their guides. Tumultuous forces outside their control ultimately tear the young lovers apart, forcing Jude and Lucy--against all odds--to find their own way back to each other.
Critic Reviews for Across the Universe
Audience Reviews for Across the Universe
½
This ambitious pastiche musical is perhaps just too avant-garde - trying to fit so many Beatles songs and tropes into a cohesive, motivated story about war, class, love, politics, (and failing in a narrative sense) - but dang it all if those crazy, trippy symbolic scenes and performances don't just make you want to have whatever Julie Taymor is having, whether sex, drugs, or rock and roll. Jim Sturgess is the most soulful of down-and-out bums, and it's disappointing that he hasn't gotten more high-profile jobs.
Alice Shen
Super Reviewer
The idea of a film telling its love story primarily through Beatles songs is great. An d while some versions of the classic tunes work better than others, the same goes for their according scenes. Overall, the film tries a little too hard, especially the political commentary of the late 60s is unnecessary and forced. A shorter, much more focus movie would have worked so much better. That doesn't change the fact that some, not all, of the music sequences are magical.
This may sound harsh, but "Across The Universe" is basically a Beatle-themed "Glee" movie. This isn't necessarily an insult - if you like that show's alternate take on hit songs and how it incorporates the music into its plotlines, then there is no reason not to enjoy this film. If you don't like "Glee", I've probably already talked you out of it.
Sam Barnett
Super Reviewer
Across the Universe Quotes
| | |
| --- | --- |
| Max Carrigan: | I'm a cross dressing, homosexual, pacifist with a spot on my lung. |
| | |
| --- | --- |
| Dr. Robert: | We're navigators, we're aviators, eatin' taters, masturbatin' alligators, bombardiers, we got no fears, won't shed no tears, we're pushin' the frontiers of transcendental perception. |
| | |
| --- | --- |
| Max Carrigan: | Would you excuse me? I have a date with Uncle Sam. |
| | |
| --- | --- |
| Mr. Kite: | Nice Make of the Woods! |
| Mr. Kite: | Nice make of the woods! |