Act of God
(2009)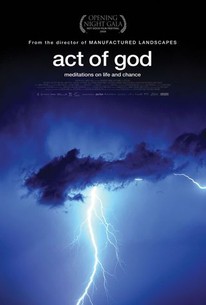 Movie Info
Documentarian Jennifer Baichwal helmed this reflective documentary that ponders the spiritual, emotional, and metaphysical ramifications of being struck by a lightning bolt. According to the National Weather Service, the odds of this incident befalling any given person are about one in 700,000, which makes many a survivor question why he or she fell prey to this unusual calamity; some infer a cosmic reason, some reject that possibility, but most fall somewhere in between as they feebly attempt to come to terms with it. In the film, Baichwal speaks with a number of well-known victims, including the novelist and screenwriter Paul Auster (The Music of Chance), the improv-driven prog rock guitarist Fred Frith, and others, and evaluates how the interviewees' lives forked off in new directions after a massive discharge of electricity descended from the sky and landed on them. ~ Nathan Southern, Rovi
Critic Reviews for Act of God
Audience Reviews for Act of God
"Act of God" is a moderately interesting documentary that seeks to explore the differences in faith and science by talking to people who have been struck by lightning.(That's not to mention the museum in France devoted to lightning strikes.) They discuss how their lives have been changed, maybe not so much in a physical manner, but in a spiritual way. While some question why they survived and others did not, others had something along the lines of a near death experience. And as in anything, there are no easy answers.
½
Short on facts and long on subjective, predictable mumbo-jumbo, this one was something of a let-down. I had hoped to hear some medical testimony and to learn more about the actual strikes and what it is really like to be hit by lightening. Apparently you just black out. If anything more interesting happened, the lightning victims interviewed in the movie would have had something remotely substantial to report other than obvious BS.
Steve Strange
Super Reviewer
Baichwal receives much critical acclaim for her films but I end up finding them dreadfully dull as cinematic experiences. Can someone show her how to make a documentary an exciting thing?
John Ballantine
Super Reviewer
Act of God Quotes
There are no approved quotes yet for this movie.