Action Jackson
(1988)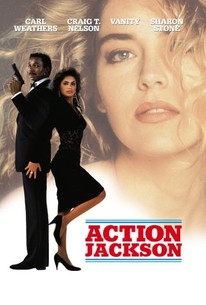 Movie Info
Ex-football player Carl Weathers stars in this violent action film as Detroit policeman Jericho Jackson. The dedicated but brutal cop is plunged into nefarious doings concerning a crooked industrialist (Craig T. Nelson) and his drug-addicted girlfriend (pop-singer Vanity), breaking many people's bones before solving the case. Sharon Stone stands out in a cast of genre veterans including Nicholas Worth, Sonny Landham, and Robert Davi. Heavy on the sex and violence, this film harkens back to the glory days of 1970s blaxploitation, but is a bit too mean-spirited to be as much fun. ~ Robert Firsching, Rovi
Critic Reviews for Action Jackson
Audience Reviews for Action Jackson
½
I love these 80's henchmen with their black outfits, mullets and inability to shoot straight. Add to that some extremely over the top action sequences and a large piece of wood in the form of Weathers and there you have it, a perfect 80's action film. This film is your typical tough guy flick with the same kind of action as many many other classic films like 'Lethal Weapon' and 'Red Heat' etc...Funnily enough this film has a few main cast members from the Arnie vehicle 'Predator' with Landham and Duke alongside Weathers. Talking of the cast this film has a mega cast of stars/80's faces...Robert Davi, Thomas F. Wilson, Craig T. Nelson, Sharon Stone, Ed O Ross, Miguel A. Nunez Jr and the ultimate henchman Al Leong. Only guy missing here is Arnie himself. I gotta admit I never really liked this flick as it just seems like a big action vehicle wannabe and just can't quite compete with the real big boys. I think Weathers is coming off a hot streak of films where he wasn't the main lead so the film didn't rest entirely on his shoulders. Weathers is a good tough guy, looks good and talks the talk but I just don't think he's got enough swing to hold an entire blockbuster film all on his own. For me he works better with other big names to spar with (no pun intended) eg. 'Rocky' and 'Predator'. The same goes for the main bad guy played by T. Nelson, he's slimy but isn't quite evil or threatening enough. Overall its a slightly unimpressive outcome but that lively 80's buzz is hard to ignore. Bit of a hit n miss non event action flick in an already flooded genre at the time.
Phil Hubbs
Super Reviewer
I had just started liking Carl Weathers after I first started watching him in the Rocky movies.Boy,did my opinnion of him become greater,but I realize after his great acting in the Rocky movies as Apollo Creed,his acting as Jericho "Action" Jackson is PHONOEMENAL!!!
Cassie Hill
Super Reviewer
one for the worst of list...
Miriam Kline
Super Reviewer
Action Jackson Quotes
| | |
| --- | --- |
| Jericho "Action" Jackson: | EX-junkie?! You're quitting? |
| Sydney Ash: | Cold turkey. And you can have me for Thanksgiving! |
| | |
| --- | --- |
| Jericho "Action" Jackson: | Barbecue huh? How do you like your ribs?! |
| | |
| --- | --- |
| Sydney Ash: | Some action! A fine woman like me and you didn't touch me all night? You either gotta be queer or a cop. |