Adam Had Four Sons
(1941)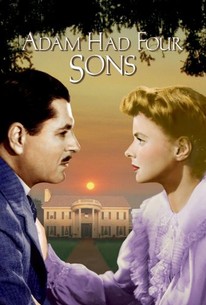 AUDIENCE SCORE
Critic Consensus: No consensus yet.
Adam Had Four Sons Photos
Movie Info
Ingrid Bergman stars in Adam Had Four Sons, her second American film appearance. Based on a novel by Charles Bonner, the story begins in the early twentieth century, when French governess Emilie Gallatin (Bergman) is hired to care for the four growing sons of wealthy Adam Stoddard (Warner Baxter). The sudden death of Stoddard's wife Molly (Fay Wray) and the loss of his fortune compels Emilie to reluctantly give up her position and head home. Ten years later, Stoddard, having recovered financially, again sends for Emilie, even though his sons have all grown and are about to march off to WW1. Secretly in love with Stoddard, Emilie nonetheless keeps her place, until the libertine behavior of Stoddard's scheming sister-in-law Hester (Susan Hayward) forces Emilie to take drastic action.
Critic Reviews for Adam Had Four Sons
All Critics (3) | Fresh (3) | Rotten (0) | DVD (2)
Of those movies that leave an unforgettable memory of perfection and charm. [Full review in Spanish]
...the high sleaze quotient ensures that Adam Had Four Sons remains engrossing enough to warrant a recommendation.
Audience Reviews for Adam Had Four Sons
I have to admit that it's embarrassing how did I found this movie... I was checking movies I've seen from Bergman and on data base I found this one. Got it and too late realize that it wasn't the director Bergman's movie but Ingrid Bergman's... it was her second movie in America! It is typical romance movie of that time in which Warner Baxter portrays the wealthy, easy-going patriarch of a family that falls on hard times after the death of his wife and a stock market crash. Recently arrived governess Emilie (played by Bergman) works to keep the family together but the financial loss of Adam Stoddards (Baxter) fortune means that Emilie must return to France. Reversing his fortunes takes several years and after that Adam recalls Emilie to look after it... but there is a twist! One of the sons, David, returns with his new wife, Hester, (played by Susan Hayward), who turns out be a conniving woman who wants to rule the roost... Screenplay was engaging, but I have to say that cinematography was below the average. I liked the acting of all the stars in this movie, while directing could be done by any film student and no one will notice the difference! It's a good material for anyone interested in the film history...
not a great movie, Ingrid is a little pallid but Susan Hayward is great as a scheming homewrecker.
Adam Had Four Sons Quotes
There are no approved quotes yet for this movie.