Adam Sandler's Eight Crazy Nights
(2002)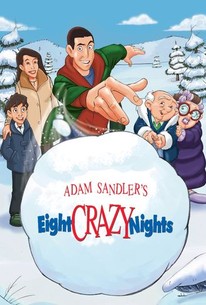 Adam Sandler's Eight Crazy Nights Videos
Adam Sandler's Eight Crazy Nights Photos
Movie Info
Davey Stone is a young man who hates the holidays and is determined that no one else in the town of Dukesberry is going to enjoy them either. On the first night of Hanukah, the perpetually grumpy Davey goes on a rowdy rampage and is arrested. Since this is hardly the first time he's gone on a destructive binge, the town sentences Davey to ten years in prison. It is only through the intercession of a kindly old codger named Whitey that Davey is spared. Whitey, a local basketball ref, agrees to take responsibility for Davey, who is ungrateful. Though Whitey suffers Davey's foul temper and bad attitude with good humor, others are less sympathetic, particularly his childhood sweetheart Jennifer, who has returned to Dukesberry with her son Benjamin. When Davey's mobile home burns down, he is forced to move in with Whitey and his kvetchy sister, Eleanor. The familial atmosphere softens Davey, somewhat, until they tap into his painful past. He turns on Whitey and Eleanor and goes off on a boisterous tear. It is only by confronting the ghosts of holidays past, and an act of selfless kindness, that Davey is able to overcome his demons and enjoy the holidays again.
Critic Reviews for Adam Sandler's Eight Crazy Nights
Audience Reviews for Adam Sandler's Eight Crazy Nights
½
Adam Sandler's "Eight Crazy Night's" is about as funny as watching a lame television late-night cartoon, it has a dumb story and lines that really are not very funny. The end of the film is the best, when they turn the conclusion into a dance number, but that is not saying much. All this film is, is a bunch of sloppily put together scenes to make it's audience feel good about themselves once the characters accomplish their goals, but if I'm being honest, I found it hard to comply with these characters, due to the fact that I didn't know which side of them to look at. "Eight Crazy Night's" is stupid, unfunny, and has a terrible premise, but in the end, I can say that the voice acting was pretty good, and I had a bit of fun.
Jennifer: Thanks for sharing the Holiday spirit, psycho.  "The Ultimate Battle Between Naughty And Nice." Eight Crazy Nights is another ripoff of the Scrooge/Grinch character, where a guy who hates the holidays and lives to ruin them for others ultimately has a change of heart. This movie is excruciating to watch even though it clocks in at a measly 75 minutes. By the end, you'll be glad that it was no longer. To say everything that is bad about the movie in one little review would be hard, so I'll just hit the big ones.  Adam Sandler does his routine animation style in this one. He wastes no time in getting to the fart and crap jokes, and they just keep on flying at us throughout. He also voices three characters, one being in his normal voice and the other two being a brother-sister combo that he uses the most annoying voices ever for. I'm guessing that he thinks it is funny to just sound as annoying as possible. Well I for one wasn't laughing. In fact, I don't think I laughed once throughout this whole piece of shit. Then there are the lame songs. Horribly written and horribly performed, the Christmas duds are sure to give you a case of nausea. Then at times he adds, the annoying voices into the songs and holy shit... you just want to die. I'd take just about any Christmas film over this one, aside from those crappy Hallmark, Lifetime, ABC Family films that are shown every year. The worst thing about this movie just might be that it was made the same year that Sandler did Punch Drunk Love. So when he got done with his one great movie, he turned around and probably did his worst(aside from Going Overboard,  but no one has seen that, so it doesn't matter). Do yourself a favor and re-watch other Holiday films and don't give this a chance. Sandler fan or not, this is unwatchable.
Melvin White
Super Reviewer
This movie was so terrible I wanted to throw up, and not the throw up where you go to the fair and get hopped up on pocorn and then throw up a ride, I mean throw up where this movie sucks.
Jim Careter
Super Reviewer
Adam Sandler's Eight Crazy Nights Quotes
| | |
| --- | --- |
| Davey Stone: | Smell ya later, poopsicle! |
| | |
| --- | --- |
| Whitey Duvall: | Technical foul! |
| | |
| --- | --- |
| Davey Stone: | *singing* if i make fun of your crazy feet, or give sugar cookies to Miss Diabetes |
| Whitey Duvall: | *singing* That's not only a technical foul...but possibly a homicide |