The Addams Family
(1991)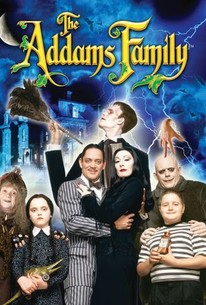 TOMATOMETER
AUDIENCE SCORE
Critic Consensus: The movie is peppered with amusing sight gags and one-liners, but the disjointed script doesn't cohere into a successful whole.
Movie Info
The eccentric lifestyle of the Addams family is threatened when the family attorney and a greedy mother/son team conspire to steal the family fortune.
News & Interviews for The Addams Family
Critic Reviews for The Addams Family
Audience Reviews for The Addams Family
½
Taking inspiration from both Charles Addams's New Yorker cartoons and (especially) the 1960s TV series, this was cinematographer Barry Sonnenfeld's directorial debut, and a fun take on the venerable family that is creepy, kooky, mysterious, spooky, and altogether ooky. Departing from the source material, the film begins with the titular clan having a seance to commemorate Gomez's estranged brother Fester who, following a terrible argument, disappeared 25 years earlier. Fester does make his return, but not all is as it seems, as what's really going on is an attempt to steal the Addams's vast fortune by using an imposter to pose as Fester. So, right off the bat, I gotta say: the plot sucks. It's nothing special, and really weak. It's easily the weakest aspect here, as this film is otherwise quite entertaining and fun. The film is primarily driven by gags, whether it's just the characters being morbidly offbeat and funny at home or when they're dealing with 'normal' society. That's the cool thing here. The cartoons and show highlighted the clash between the family and outsiders, but the film really hammers home that satire and commentary, thanks in no small part to some occasionally sharp and witty writing, and especially some great performances from and awesomely chosen cast. I think the film gets a little too bogged down sometimes with the impostor plot, but I guess they had to come off with some sort of plot to make this work as a film, so, really, this could have been worse. When the film is just focused on the character moments though, it's a lot of fun. The art direction, set design, and costumes are awesome and compliment the atmosphere, mood, and tone perfectly. It's a nice blend of gothic aesthetics that adds a sometimes timeless, or at least vintage air to things. As for the cast, Raul Julia is a scenery chewing delight as the patriarch Gomez. Anjelica Huston is a more subtle, but seductively compelling character as his wife Morticia, and then there's Christopher Lloyd as the would be Fester. He's sometimes unrecognizable, but he does a good job in a somewhat tough role. Christina Ricci was practically tailor-made for Wednesday, and, I feel the need to give special praise to Christopher Hart who does a great job as the severed hand Thing, who is something of a pet for the Addams family. Playing more normal characters are Dan Hedaya as the family lawyer, and Dana Ivey as his wife. They're both decent. Elizabeth Wilson plays the con woman who uses her son to play Fester to infiltrate the family, and, while she does have a few scenery chewing moments I like, I don't think she's that good of a character. This is a film I'm quite partial to, having watched it many times over the years. My love for it has waned a tad, but I still dig it a lot. During the 1990s, there was a slew of movies adapted from 60s television shows, and, while this one has it's problems, it and it's sequel are clearly on the high end of the scale as far as these adaptations go.
Chris Weber
Super Reviewer
Of course we all know what this is based on, the excellent cartoons of one Charles Addams, his macabre little sketches were visually simple yet highly imaginative (for the time) and in my opinion ahead of their time. Many incarnations of Addams creation have come and gone, most of which have all turned out pretty well and this film from Rudin is no exception in my view. With a perfect cast of character actors just shy of being oddballs themselves this film is brought to life in a sweeping gothic spooky style that compliments the original source material to a tee. In my view Julia IS 'Gomez' and will always be, his ball eyed lunacy and sharp pin stripe suits are spot on as is his pencil thin moustache giving him that great suave caddish style. 'They say that a man who represents himself in court has a fool for a client. And, with God as my witness, I am that fool!' All the family are correct and present with outstanding performances from Lloyd as 'Fester', Huston as 'Morticia', Workman as 'Pugsley' and newly discovered Ricci as the chilling emotionless 'Wednesday'. Add to that great backup from the rest of the cast including some neat effects to create 'Thing' which really does look quite good even today. Some nice hands on makeup/effects to bring 'Cousin Itt' to life without the use of CGI. In fact this old film is a testament to how good effects can be with good hard work and craftsmanship. The Addams Mansion is clearly a model in some shots but they seemed to build a huge set also! its gorgeous! really really makes a difference instead of relying on the dreaded CGI monster. I really do love this film as, in my opinion, its a great adaptation of the source material and sticks to what works, its fun for all the family whilst retaining a nice balance of kooky, spooky ghoulish looks and humour alongside some lovely set work, character makeup and costume. If you like 'The Addams Family' then I'm confident you would enjoy this version, the plot is simple and works well as Rudin doesn't go over the top. A lovely musical score and some quirky visual moments all add to a fun filled halloween creepy comedy. The 'Addams rap' song in the closing credits is also surprisingly cool. 'Don't torture yourself Gomez...that's my job'
Phil Hubbs
Super Reviewer
½
This is a fun little comedy horror film that should appeal comedy fans as much as horror fans alike. Barry Sonnenfeld has had a hit and miss career as a director, but with The Addams Family, he delivers something very amusing based on the cartoon. The success of the film lies with its terrific cast of talented actors, add to that a funny, horror themed script and you have a perfect film to watch during the Halloween season. There are some really good performances here, especially from Anjelica Houston and Raul Julia. This is really a good film that could introduce potential new fans to the genre of horror as the film's script balances both comedy and horror. This is an entertaining ride from start to finish. I really enjoyed the humor in the film, and along with other comedy horror films, it has a secured place in the genre. I really enjoyed the fact that the film relied on the macabre tones of the cartoons and kept the insanity that the Addams Family such a hit. This is one of those films that deliver as much laughs as spooks, and it really delivers something truly fun and original. I would say that The Addams Family is in the same league as Tim Burton's Beetlejuice. The morbid, darkly humorous bits are the best aspect of the film, and Barry Sonnenfeld has crafted one of his greatest works with this one. I think it's too bad that he's fairly hit and miss nowadays. Although it has its fair share of imperfections, The Addams Family is a demented treat to watch and with a great cast that really shine, you're sure to enjoy this if you're a fan of comedic horror.
The Addams Family Quotes
| | |
| --- | --- |
| Pugsley Addams: | [about to bury two people] Are they dead? |
| Wednesday Addams: | Does it matter? |
| | |
| --- | --- |
| Morticia Addams: | "I know it is wet and the sun is not sunny." |
| Morticia Addams: | I know it is wet and the sun is not sunny. |
| Morticia Addams: | "But we can have lots of good fun... that is funny." |
| Morticia Addams: | But we can have lots of good fun... that is funny. |
| Morticia Addams: | Oh no, he lives. |
| | |
| --- | --- |
| Wednesday Addams: | I have decided to scalp you and burn your village to the ground. |
| | |
| --- | --- |
| Girl Scout: | Is this made from real lemons? |