Addams Family Values
(1993)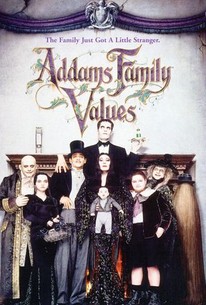 TOMATOMETER
AUDIENCE SCORE
Critic Consensus: New, well-developed characters add dimension to this batty satire, creating a comedy much more substantial than the original.
Addams Family Values Videos
Addams Family Values Photos
Movie Info
When the Addams family welcomes a new baby, they hire a devious nany, Cussack, who falls in love with and marries Fester. Her true intentions are revealed as a serial killer who marries wealthy men but she is no match for the insanity of the Addams.
News & Interviews for Addams Family Values
Critic Reviews for Addams Family Values
Audience Reviews for Addams Family Values
The ghoulish Addams clan return for another cinematic go round, and, like many sequels, this one fails to live up to the goods that the first delivered. Well, I say that, but this one sometimes does a few things better than the first, but in the end still fails to surpass it. The plot is basically the same as the first one, with a woman using Fester to get to the family fortune, though this one also spends a lot more time with a subplot, with the subplot being the best parts of the movie, and where the main focus should have been. What we get here is a gold digging serial killers who makes Fester her main target. The subplot sees Wednesday and Pugsley shipped off to a summer camp for privileged kids, and Wednesday having to come into her own as she contends with the reprehensible snobs of the world. This one isn't a fresh or fun as the first, but it does feature more scenes of the Addams family having to interact with the 'regular' world, especially with the subplot. This leads to many moments of fun commentary and satire, a lot of which works, though a fair amount of it is on the nose. The stuff with Fester and the gold digging Debbie has its moments, but I think they could have come up with a more inspired plot and a better fitting antagonist. Given how the Addams family are the ultimately idle wealthy who also don't generally fear death, it's a bit tough to find a genuine threat, but I think they could have pulled it off, and just didn't because they felt more comfortable coasting on fumes. The film is funny, but not as much as the first. The art direction, set design, and all that are still good though, and I liked that almost all of the original main cast returned, and not only that, but that they once again delivered some decent work. Even though I have mixed feelings with her character, I think Joan Cusack did fine as the main antagonist, and Carol Kane is an okay replacement for the late Judith Malina as Grandma Addams. So yeah, even though this is a step down, it's still an okay film. It could have been a whole lot better, but it also could have been so much worse.
Chris Weber
Super Reviewer
For me this sequel didn't quite hit the mark and I just can't pin point why to be honest. All the cast return so continuity is fine accept for the character of 'Granny' and this time the family have a two new members in the form of 'Baby Pubert' and 'Debbie' the psychopathic widow who goes from one man to the next. I didn't really like the story choice for this film as it centres on 'Fester' again just like the first, maybe they could of used another character or a couple together perhaps, I also never really liked the baby premise as it tends to lean to much towards childish slapstick. The plot line about the black widow 'Debbie Jellinsky' wasn't too bad and did recover some more dark undertones but I think it should of been used with 'Gomez' maybe, plus I didn't really like Joan Cusack's performance at the time, its grown on me since. I also never liked how the continuity of the film changed so much from the first (cast aside). Mainly the Mansion is in a different location, it looks different on the outside and the interior is vastly different. Some people won't care I know but things like that I notice and they annoy me, it doesn't make sense! why couldn't they keep it at least remotely the same?. Unfortunately that's what we got, a lot of silly childish slapstick and baby humour all centered around 'Pubert', yes it was still ghoulish and macabre but it really stooped for the kids. Things got better with 'Pugsley' and 'Wednesday' at their summer camp which introduced us to the allergic Jewish boy 'Joel Glicker' played wonderfully by David Krumholtz. The whole sub plot here was really quite funny and more devilish with the sinister camp leaders played eerily by Peter MacNicol and Christine Baranski with their 'harmony hut' torture hehe its a shame the whole film couldn't keep this tone of black humour throughout. Again the film does look lovely in terms of costume and sets with more natty quirky visual effects and bizarre camera angles which add to the kookyness. I think this film just went that touch over the top, just a hint off the wall which made it feel a bit too much like a live action cartoon at times. At least the franchises posters still looked really sweet.
Phil Hubbs
Super Reviewer
Pretty good sequel to The Addams Family, the cast from the first film come back for more horrifying comedic fun. Although less memorable than the first film, the filmmakers craft a funnier film than the first. However I much preferred the original. With this entry, director Barry Sonnenfeld keeps a fine mix of humor and horror as the cast go through the zany material effortlessly. Enjoyable for a good time, and if you loved the first, then you're sure to like this one. I thought that the cast did a fine job here, and I thought each brought something new to the roles that made them unique from the first flick. I think it was sad though that it was one of Raoul Julia's last performances, and at least he went out with a bang as Gomez Addams. He really made the character his own in this sequel, and overall it's a fine tribute to a terrific actor who was a perfectionist of his craft, and the result shows on-screen. The Addams Family values delivers all the dark humor overtones you'd expect from the first, and though it's less perfect than the first, it still delivers great entertainment. Despite its flaws, the filmmakers still manage to overcome its imperfections and manage to make a film that is a good second and is a sequel that still plenty of effective gags and ideas to make it worthwhile. The Addams Family Values is demented good fun and succeeds at exploring new territory to keep the viewer interested. Where many sequels have failed, this film succeeds and is a must see for fans of the first.
Addams Family Values Quotes
| | |
| --- | --- |
| Amanda Buckman: | Hi, I'm Amanda Buckman. Why are you dressed like that? |
| Wednesday Addams: | : Like what? |
| Amanda Buckman: | Like you're going to a funeral. Why are you dressed like somebody died? |
| Wednesday Addams: | Wait. |
| | |
| --- | --- |
| Amanda Buckman: | Is that your bathing suit? |
| Wednesday Addams: | Is that your overbite? |
| Wednesday Addams: | Is that your overbite? |
| | |
| --- | --- |
| Host: | And then Mommy kissed Daddy, and the angel told the stork and the stork flew down from heaven and left a diamond under a leaf in the cabbage patch and the diamond turned in to a baby |
| Host: | And then Mommy kissed Daddy, and the angel told the stork and the stork flew down from heaven and left a diamond under a leaf in the cabbage patch and the diamond turned in to a baby. |