Addicted to Love
(1997)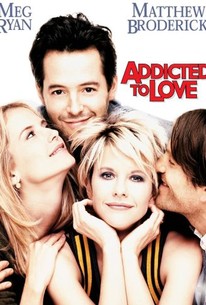 Movie Info
In this slightly dark comedy about romantic obsession, Sam (Matthew Broderick) is an astronomer who likes his life in the small New England town he calls home and loves his fiancée, Linda (Kelly Preston). But one day, Linda tells Sam that she's moving to New York because she has found a new job -- and a new boyfriend. Sam is shocked and doesn't want to give Linda up, so when she moves to Manhattan, Sam follows her. Moving into an empty loft across the street from Linda's new apartment, Sam constructs a camera obscura that allows him to watch what she and her new beau, a French restaurateur named Anton (Tcheky Karyo), are up to. Sam's convinced that Linda is just going through a phase, and when she gets tired of Anton, he'll be there to pick up the pieces. But Sam soon has company in his obsessive watch over Linda's new flat: Anton's former girlfriend, Maggie (Meg Ryan), crashes Sam's hideout and joins him in his spy mission. While Sam just wants Linda back, Maggie is seething with rage against Anton after he dumped her and now she's out for revenge. Addicted to Love was the directorial debut of actor and producer Griffin Dunne; he cast his father, noted author Dominick Dunne, in a small role as a food writer.
Critic Reviews for Addicted to Love
Audience Reviews for Addicted to Love
Very slight even for a rom com, but I kind of like it. The revenge on the French chef is pretty harsh ( ugh to the cockroach scene). I don't know if I can especially believe any of these four people as a couple, though. Matthew Broderick is kind of meh as a romantic lead, Meg Ryan is psychotic and a bit weird here (and not in a cute, quirky way either, although I think she's meant to be), the Frenchman is hammy and Kelly Preston does the vapid airhead role and can't really care about her. I think this only works because it's an older movie now and you don't see a lot of this cast now in movies, so it's kind of a fun flashback. I can imagine it would have been panned on release.
Nicki Marie
Super Reviewer
½
It is funny. A little dark (spying on your ex), but funny.
½
Two jilted lovers team up to get revenge on their ex's --- what do you think happens next? The execution of the plotline plays much better than the description, trust me, in this cute little black comedy/romance. Give it a chance, you'll be glad you did.
Kevin M. Williams
Super Reviewer
Addicted to Love Quotes
There are no approved quotes yet for this movie.