The Adjuster
(1992)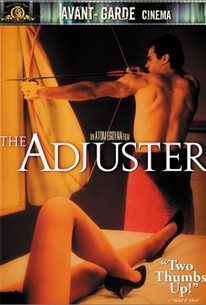 Movie Info
Written and directed by Canadian filmmaker Atom Egoyan, The Adjuster is an examination of the sexual quirks of a married couple. Starring such Egoyan regulars as Elias Koteas, Arsinée Khanjian, Maury Chaykin, and Don McKellar, the film focuses on Noah Render (Koteas), an insurance adjuster who enjoys sleeping with his clients, and his wife, Hera (Khanjian), a film censor who finds excitement in making copies of the most explicit parts of the movies she's assigned to review. When they invite Bubba (Chaykin) into their house to make a movie, the Renders find their lives becoming even more complex. McKellar plays a young film censor who works with Hera. ~ Matthew Tobey, Rovi
Critic Reviews for The Adjuster
Audience Reviews for The Adjuster
Atom Egoyan is one of my fav filmmakers. He has written and directed movies about damaged, isolated characters surounded by media and technlogy and the complex nature of human sexuality. "The Adjuster" is one of those films that explores those themes. The only problem was I had an almost difficult time trying to figure out what was really going on. Noah (Elias Koteas), the hero, is an insurance adjuster. He walks into people's lives after they have been devastated by tragedy, and tries to figure out how it can be fixed. Hera(Arsinée Khanjian) who is married to Noah works as a film censor, sitting in a darkened room looking at pornographic images while secretly recording them. Noah has a bad habit of sleeping around with his clients while Hera has a habit of videotaping porn to show to her sister since after all, they are very close. There is also the married couple Bubba (Maury Chaykin) and Mimi (Gabrielle Rose) both enjoy rolepalying or playing house with each other in a sort of weird perverted way. There is an early scene with Chaykin disgusing himself as a homeless man on a subway train, almost passes out but helps himself to a seat. A lady in a red sits right besides him taking his hand and putting it under her crotch. Another scene where Mimi becomes a cheerleader, dances and teases in front of a football team. At first I didn't know how these two were and what was the motive but as the film progresses it became clear. That's the Egoyan touch. When Bubba and Mimi meet Noah and Hera. They have met their ultimate fantasy and in the final scenes we see how damaged Noah and Hera become. Noah and Hera have been adusting people's lives and now they have been victims of being re adjusted from meeting Bubba and Mimi. "The Adjuster" is a strange film and a little difficult to follow but it's very well shot and nicely made and the ominous music by Mychael Danna (who has scored music for Egoyan since "Family Viewing") sounds pretty amazing. Atom Egoyan uses a bit of comedy and then gets serious by slowly peeling the layers off so that by the end, audiences should sort of have an idea to the puzzle.
½
Great combination of sound, plot and characters. While it seems to be meant as an unsettling film, I found it to be quite inviting. Yes it's bizarre, but it has a very realistic quality about it (even though the characters were incredibly phony) that is true to life. It's a great piece of film making and a unique style.
Conner Rainwater
Super Reviewer
Delightfully creepy and disturbing. Maybe Atom Egoyan's best.
Steve Strange
Super Reviewer
The Adjuster Quotes
There are no approved quotes yet for this movie.