The Adjustment Bureau
(2011)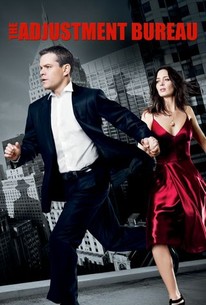 TOMATOMETER
AUDIENCE SCORE
Critic Consensus: First-time writer/director George Nolfi struggles to maintain a consistent tone, but The Adjustment Bureau rises on the strong, believable chemistry of its stars.
The Adjustment Bureau Videos
The Adjustment Bureau Photos
Movie Info
On the brink of winning a seat in the U.S. Senate, ambitious politician David Norris (Damon) meets beautiful contemporary ballet dancer Elise Sellas (Emily Blunt)--a woman like none he's ever known. But just as he realizes he's falling for her, mysterious men conspire to keep the two apart. David learns he is up against the agents of Fate itself--the men of The Adjustment Bureau--who will do everything in their considerable power to prevent David and Elise from being together. In the face of overwhelming odds, he must either let her go and accept a predetermined path...or risk everything to defy Fate and be with her. Based on a short story by Philip K. Dick. -- (C) Universal Pictures
Critic Reviews for The Adjustment Bureau
Audience Reviews for The Adjustment Bureau
½
A brilliant, thought-provoking blend of romantic thriller and science fiction developed from a simple but very well-conceived idea and with a couple of characters that are so easy to relate to. Even if only loosely based on his story, I guess Philip K. Dick would have been proud.
Carlos Magalhães
Super Reviewer
½
The Adjustment Bureau is an interesting love-drama that is powered by the chemistry of Matt Damon and Emily Blunt. The script is alternative and may not be fully comprehensive to most audiences. But the film is solid and interesting to see. 4.5/5
Eugene Bernabe
Super Reviewer
Star-crossed lovers are kept apart by an omniscient bureau because their perfect, fulfilling love will dampen all other desires, including their respective ambitions to attain professional success in politics and DANCE. I don't particularly buy that thesis, nor that the universe wouldn't have better things to do than keep Matt Damon and Emily Blunt apart, but the light chase movie is kinda fun, cutesy, and dangerous but not so dangerous that a happy ending isn't ensured.
Alice Shen
Super Reviewer
The Adjustment Bureau Quotes
| | |
| --- | --- |
| David Norris: | What ever happened to free will? |
| Thompson: | We actually tried free will before. After taking you from hunting and gathering to the height of the Roman Empire, we stepped back to see how you'd do on your own. You gave us the Dark Ages for five centuries... until finally we decided we should come back in. The Chairman thought maybe we just needed to do a better job of teaching you how to ride a bike before taking the training wheels off again. So we gave you the Renaissance, the Enlightenment, the Scientific Revolution. For six hundred years we taught you to control your impulses with reason, then in 1910 we stepped back. Within fifty years, you'd brought us World War I, the Depression, Fascism, the Holocaust and capped it off by bringing the entire planet to the brink of destruction in the Cuban Missile Crisis. At that point a decision was taken to step back in again before you did something that even we couldn't fix. You don't have free will, David. You have the appearance of free will. |
| | |
| --- | --- |
| Harry Mitchell: | "Most people live life on the path we set for them. Too afraid to explore any other. But once in a while people like you come along and knock down all the obstacles we put in your way. People who realize free will is a gift, you'll never know how to use until you fight for it." |
| Harry Mitchell: | Most people live life on the path we set for them. Too afraid to explore any other. But once in a while people like you come along and knock down all the obstacles we put in your way. People who realize free will is a gift, you'll never know how to use until you fight for it. |
| | |
| --- | --- |
| David Norris: | Look, whatever happen, I wont let it come between us again |
| David Norris: | Look, whatever happens, I'm not gonna let anything come between us again. |
| | |
| --- | --- |
| Harry Mitchell: | Your world just turned upside down, and all u think about is a woman |
| Harry Mitchell: | You're entire world has turned upside down and you're thinkin' about a woman. |