Admissions
(2004)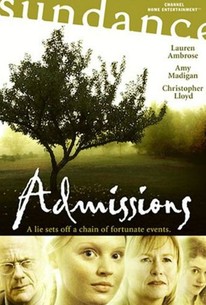 AUDIENCE SCORE
Critic Consensus: No consensus yet.
Movie Info
A gifted high-school student flubs her college admissions interviews for the most unexpected reasons in this independent coming-of-age drama. Cynical, world-weary Evie (Lauren Ambrose) is more interested in taking care of her family than getting into the Ivy League institutions for which she seems destined. Dad Harry (John Savage) spends all his time building model trains in the basement, while workaholic mom Martha (Amy Madigan) depends on Evie to take care of her other daughter, developmentally challenged Emily (Taylor Roberts). When she's not busy reading poetry to her sister Emily, Evie hangs out with James (Fran Kranz), the sensitive boy next door, whose romantic overtures prove too confusing to acknowledge. College also seems too daunting, so Evie deliberately blows one university interview after another in the hopes of staying at home as her sister's keeper. Meanwhile, Evie begins passing off her own poems as Emily's, fuelling the belief that her brain-damaged sister is actually a literary savant. The scheme, of course, blows up in her face -- but Evie isn't prepared for the other family secrets that emerge when the truth comes out. Directed by indie producer-turned-director Melissa Painter, Admissions was adapted by screenwriter Dawn O'Leary from her own stage play.
Critic Reviews for Admissions
Audience Reviews for Admissions
Great story telling film, with a unexpected twist at the end. Ambrose does a wonderful job, so does Amy Madigan. This could have easily been trite..but this seemed like a great collborative effort.
Hogans Hero
Super Reviewer
It starts off a little unsure of itself but gradually grows in confidence. This has a similar story but is superior to, and pre-dates, "Proof". There's a neat twist towards the end which actually enhances the story (rather than make you go, "hang on?", like lots of other movies do). A stellar performance from Lauren Ambrose, and Fran Kranz is also good. A very good way to spend 84 mins of your time. If you get the DVD, whatever you do, don't watch the trailer first, as it practically gives away every revelation.
Daniel Parsons
Super Reviewer
Admissions Quotes
There are no approved quotes yet for this movie.