Adoration
(2008)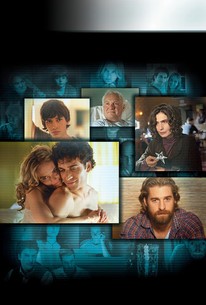 Movie Info
Director Atom Egoyan explores the concept of cyberspace as a place for redemption in this drama about an adolescent boy named Simon (Devon Bostick) who reinvents his life on the Internet. Before long, Simon's deeply personal journey provokes strong reactions from around the globe. Rachel Blanchard and Scott Speedman co-star. ~ Jason Buchanan, Rovi
News & Interviews for Adoration
Critic Reviews for Adoration
Audience Reviews for Adoration
With Atom Egoyan, you can almost always expect a challenging film accompanied by realistic characters and dialogue, some heavy and complex themes, and no easy answers or payoff. "Adoration" is no exception. This is a multifaceted character study with a (slightly convoluted) web of a plot that goes in unpredictable directions along with it's unpredictable characters. It is definitely a good film, but it's intentionally abstract narrative was frustrating at times and it lacked the memorable characters, conversations, and overall cohesion of some of Egoyan's other (superior) films. Still, a good film that built itself up to a strong finish.
Cast: Devon Bostick, Scott Speedman, Arsinée Khanjian, Rachel Blanchard, Noam Jenkins, Kenneth Welsh, Aaron Poole, Katie Boland, Duane Murray Director: Atom Egoyan Summary: Assigned to translate a terrorism-related news story for his French class, teen Simon (Devon Bostick) weaves personal details into his tale, which soon leaves the Internet swirling with rumors that Simon's dead father was an actual terrorist. Acclaimed auteur Atom Egoyan's haunting and lyrical drama -- cleverly structured as a mystery -- also stars Scott Speedman as Simon's caretaker uncle and Arsinée Khanjian as Simon's persistent teacher. My Thoughts: "The story is a dialogue driven film with discussions surrounding terrorism, religion and prejudice. This boy Simon, has, with some help from his french teacher, fabricated a story into making his father out to be a terrorist. It was suppose to be a french assignment about putting the story into your own words as the teacher is reading it aloud. SImon writes it as the third person, as if he was apart of it. His french teacher encourages him to go further with it as a drama piece and to not reveal that it is all fabricated. But as Simon continues telling the story, his own story gets tangled within it and the lines of truth and lies become a bit blurred. Also the french teacher has her own secret and reasons for having him explore this lie/story, but you will have to watch the film to figure it out. The whole film is completely absorbing. It can also be confusing at times with the flashbacks. But definitely worth the rental."
♥˩ƳИИ ƜѲѲƉƧ♥
Super Reviewer
½
Adoration is a film written and directed by Atom Egoyan, which of course means that conventional story telling is not in the forcast. Primarily dealing with a high school student, his French (and drama) teacher, his uncle and his grandfather, the film delves into several topics, including race discrimination, religion and religious discrimination, and terrorism. With Egoyan you get a plot line that likes to double back on itself, showing the interconnectivity of people and their reactions. This often makes for a disjointed narrative, and in the case of this film, gives a very surreal tone, as if the time and place of the story are inconsequential - so the foundation on which most films are built is, in this case, a bed of quicksand, shifting in time and for me, never quite giving a feel for where in the world this story was taking place (which, given its subplots, should matter a great deal). Adding further to the surreal tone, and putting distance between the film and the viewer are some incongruities involving money. The uncle and his ward, the student, are suffering some financial difficulties, and yet the student has tons of expensive toys in his room (computers, cameras, electric guitar and amp, etc). Along the same lines, the teacher at some point loses her job, and yet is throwing cash around like she has some kind of trust fund. All of which gives the viewer the feeling that the director was saddled with a script that should have been thought through a bit more - but since Egoyan wrote the script himself, he only has himself to blame for the cardboard feel of the characters and the clumsy introductions to obvious set pieces (where with a good script and direction, these things become seamless). There are some inventive touches on display here, specifically the partial telling of the story through the student's video camera, and the use of an internet chat room to give Egoyan the opportunity to riff about terrorism and the net itself. I found it interesting that Egoyan had the more impassioned dialogue coming from the chat room where people were venting their feelings concerning an abstract topic - as if the caring about theoretical topics was more real than what was going on outside in the real world. I wanted to feel a certain pity for the student's uncle, who ended up being the student's ward, but the acting was very uneven and the script had so many set pieces that weren't fully realized that the only time I really felt for him was when some snooty woman commented that he was "only a tow truck driver"; as if his occupation defined who he was as a person. I also wanted to feel something towards the student, but again, the story line kept getting in the way, as if Egoyan had so many plates spinning on all these varied topics that the characters, instead of being breathing beings were reduced to mouthpieces for the topics, leaving the last third of the film, where truths are revealed and where emotion was supposed to run high, feeling flat and somewhat trite. The final shot, concerning the scroll of a violin was supposed to hold some great emotional weight, but seemed simply a contrivance. Further, the film holds a twist of sorts, (more of a surprise revelation), which was presented as meekly as the supporting argument for the twist's plausibility. I admire the writer/director attempting to say something relevent and attempting to say it in a non-formula way, but the end result is that the film fails for those same reasons.
paul sandberg
Super Reviewer
Adoration Quotes
| | |
| --- | --- |
| Tom: | Maybe people should stick to their own kind. |
| | |
| --- | --- |
| Simon: | If my friends found out it isn't true, it wouldn't be the same. |
| | |
| --- | --- |
| Simon: | Innocence is a hard thing to describe. It's like a scent. |
| | |
| --- | --- |
| Simon: | The first thing you have to realize about my mother is that is was extremely trusting. |
| Simon: | The first thing you have to realize about my mother is that she was extremely trusting. |