Adulthood
(2008)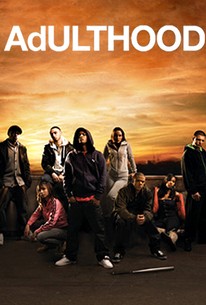 AUDIENCE SCORE
Critic Consensus: No consensus yet.
Movie Info
Two years after director Menhaj Huda offered an unflinching look at the lives of troubled London youth in Kidulthood, that film's screenwriter and star Noel Clarke steps up to the challenge of directing for this sequel that finds Sam Peel struggling to stop the cycle of violence that nearly destroyed his life. Sam (Clarke) has just served six years for killing Trife, and now he's a free man. But life isn't any easier for Sam on the outside than it was on the inside, because out on the streets he is forced to confront the people he hurt on a daily basis. Some of those people have decided to move on with their lives, but others don't have that luxury. Now, as Sam begins to come to grips with his sorrow and guilt, he is surprised to discover that a new generation of bad boys is out for bloody revenge. Years ago, Trife had tried to warn Sam that he should stop the violence before it's too late. Today it's Sam's duty to try and get that message across and prevent the kids on the streets from throwing their lives away for a skewed sense of honor that doesn't even really exist. Hopefully, for both Sam and the next generation, the kids of today will be more receptive to that message than he once was.
Critic Reviews for Adulthood
All Critics (2) | Top Critics (2) | Fresh (2) | Rotten (0)
Thesping is a bit rough in places, but of a piece with the film's shouty, in-your-face style, though Clarke himself gives a powerful performance...and keeps up that pic's frenetic split-screen and popvid rhythms.
July 2, 2008
Audience Reviews for Adulthood
A good fo[low up to the first film Kidulthood, set 6 years later with Sam being released from prison. It's not quite as dramatic as the first, but still a good film. Nice to see the majority of the same cast, made 3 years after the first, now looking a bit older. This film centers around Sam mainly. Some might find the slang a bit too quick, hard to understand......but a lot of young boys do sound like that in London! A good film dealing with revenge and growing up and showing that violence wont get you anywhere.
½
Written and Directed by Noel Clarke, this sequel to Kidulthood isn?t quite so fast moving as, yet it builds up nicely to a climatic ending. Based on revenge, the follow up film cleverly flips the coin on whose side you are rooting for and maintains the gritty, realism of the urban youth of Britain today. Incidentally for those watching this as Danny Dyer film, there may be some disappointment as his appearance is little more than a cameo role.
Lady D'arbanville
Super Reviewer
Well the second one doesnt disappoint especially if you enjoyed the first these are brilliant work from noel clarke he really is talented. the storyline is brilliant the acting is brilliant and there are a lot of young new actors in it. You get to see what its like for kids in london that are struggling and this film continues from the first where noel clarke has killled trife and is trying to move on but you see all the horrors hes gone through and at atages you start to fill sorry for him! This movie is brilliant and well worth a watch!
Film Crazy
Super Reviewer
Adulthood Quotes
There are no approved quotes yet for this movie.