Adventureland
(2009)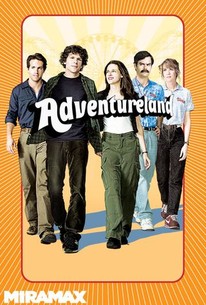 TOMATOMETER
AUDIENCE SCORE
Critic Consensus: Full of humor and nostalgia, Adventureland is a sweet, insightful coming-of-age comedy that will resonate with teens and adults alike.
Movie Info
Inspired by writer/director Greg Mottola's own true-life job-from-hell experience, Adventureland stars The Education of Charlie Banks' Jesse Eisenberg as an uptight recent college graduate who discovers that he'll have to get a degrading minimum-wage job at a local amusement park instead of spending his summer drinking German beer, visiting world-class museums, and flirting with cute French girls. It's the summer of 1987, and James Brennan (Eisenberg) has just graduated from college. James is all set to embark on his dream tour of Europe when his parents (Wendie Malick and Jack Gilpin) suddenly announce that they won't be able to subsidize the trip. Now the only things James has to look forward to this summer are sugar-fueled children, belligerent dads, and an endless parade of giant stuffed animals. When James strikes up a relationship with captivating co-worker Em (Kristen Stewart), however, he finally starts to loosen up. Suddenly, the worst summer ever doesn't seem quite so bad. ~ Jason Buchanan, Rovi
Critic Reviews for Adventureland
Audience Reviews for Adventureland
Hokay, so when I first saw this movie, I LOVED it. Like, haven't-had-a-new-favorite-movie-in-a-long-time LOVED it. I thought it had the lewd humor of "Superbad," the zaniness of "Nick and Norah's Infinite Playlist," and the brain and heart of "Juno." But after two rewatches in the past seven years, I've gone from a rave 5-star rating to a fine-but-still-demoralizing 3-star rating. Could it be that I'm over my turn-of-the-century cinematic crushes on intellectual and romantic Jesse Eisenberg and/or withdrawn yet open-book Kristen Stewart? Could it be that in my young adulthood, I've grown jaded by the coolly aimless post-college bildungsroman? The soundtrack, production design, and park hijinx are as whimsically nostalgic as a deep-fried cornmeal-battered sausage on a stick, but my blind spot for the '80s renders this movie a drive down someone else's memory lane.
Alice Shen
Super Reviewer
A delightful, sweet and sensitive coming-of-age story directed by Greg Motolla, who also made the incredibly hilarious Superbad, and it has a nostalgic soundtrack and some very good performances, especially by an always great and charismatic Jesse Eisenberg.
Carlos Magalhães
Super Reviewer
½
Nothing brings people together like a crappy summer job. Saw it again! Great Movie! To me this movie really touched me and I felt like a kid again seeing this film and hearing those 80's music hits and when I use to go to those fares. But this movie is much more than that, it reminded me of been a teenager and going thru the pressures of school and girls, having fun in summer with no worries, how been popular was and still is what everyone wants to be around friends in those years of there lives. The movie all round is pretty funny and has it's sarcastic moments with laugh out loud moments you will enjoy. In 1987, James Brennan's dreams of a summer European tour before studying at an Ivy League school in New York City are ruined after his parents have a severe career setback. As a result, James must get a summer job to cover his upcoming expenses at the decrepit local amusement park, Adventureland, where he falls in love with a witty co-worker, Emily Lewin. In that bizarrely shady workplace, the young carnies have unforgettable and painful learning experiences about life, love and trust while James discovers what he truly values.
Adventureland Quotes
| | |
| --- | --- |
| Em Lewin: | Wow. |
| James Brennan: | Hi. I just got off the bus. I'm a New Yorker now. I guess I should probably buy an umbrella. |
| Em Lewin: | I don't think I can see you. |
| James Brennan: | What? |
| Em Lewin: | This summer was rough. I did things that I really, really regret. |
| James Brennan: | Yeah, me too. I'm sorry I told Lisa P. about you and Connell. She told the rest of the world, but I'm not gonna lie. I was really angry at you but you didn't deserve that. |
| Em Lewin: | You know, James, I am so sorry for fucking this up. You were the only good thing that happened this summer. [starts to walk away] |
| James Brennan: | Wait, Em! I think I maybe see you a little differently than you see yourself. Yes I see the person who fucked up, but I also see the person who saved me from being knifed over a giant-ass panda, who introduced me to psychotropic chocolate-chip cookies, who stood up for Joel, and who doesn't make apologies for herself. Look, my theory is you can't just avoid everybody you screw up with. And you should trust me, I'm a New Yorker. |
| | |
| --- | --- |
| James Brennan: | Look, am I gonna get in trouble? No one's ever supposed to lose a giant-ass panda. |
| Em Lewin: | Is it worth getting knifed over? |