Adventures in Babysitting
(1987)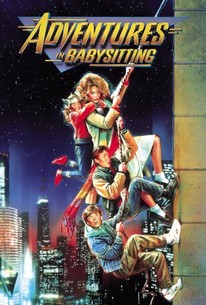 Adventures in Babysitting Photos
Movie Info
After reluctantly accepting a baby-sitting job, a teenager gets a call from her best friend who is stranded in downtown Chicago. With her charges in tow, she heads downtown to rescue her friend, setting herself and the children up for many comic mishaps, perils and hairbreadth escapes.
Critic Reviews for Adventures in Babysitting
Audience Reviews for Adventures in Babysitting
Or, curiously, as it was known in the UK 'A Night on the Town'. Funnily enough I can't seem to find out why this change was implemented in the UK. I know the UK version was cut by about 8 seconds for profanity and since then the movie was released with those cuts back in and the original title restored. I guess the title change could have been down to possible confusion with some other movie, I guess. That being said, the plot is essentially a kids version of Martin Scorsese's 1985 movie 'After Hours'. Not only that, this movie always seemed like a bit of an oddity to me. Its most definitely a classic 80's movie yet somehow...I always felt like it should of had a more classic cast. Its the strangest thing, every time I think about this movie I keep putting other classic actors of the era in it, knowing full well they weren't in it. I guess what I'm saying is this movie really needed some A-list talent in it. The movie really does yearn for a standout comedic performance to add some punch, the best bet being the villains ('Home Alone' being a good example). To me this always felt like a huge missed opportunity. The other main issue I had with this movie is the plot. Basically Chris Parker (Elizabeth Shue) has taken on a babysitting gig after her boyfriend blows her off. Her job for the evening now is to look after teenager Brad (Keith Coogan), 8 year old Sara (Maia Brewton) and next door neighbour Daryl who gate crashes the situation. Now the entire backbone of the story hinges on one thing, Chris Parker's friend Brenda running away from home and getting stuck at the city bus station. Brenda uses up all her money to run away to the bus station, changes her mind and wants Chris to come pick her up. To me this was always really weak and really annoying too, I'd be like...not my problem, ring your parents. So Chris feels obliged to help her idiotic friend, but to make matters worse the kids blackmail her into taking them along, cue the nightmare. The movie moves from one set piece to another introducing more and more problems for Chris as her night becomes more and more convoluted. The whole scenario is one long chain reaction of events intertwined. Its also one of those scenarios in a film where you sit there, at times feeling uncomfortable because you just know the characters shouldn't be doing this that or the other. You find yourself saying things out loud because you know what's gonna happen. One of the first major setbacks for Chris and co is when their car gets a flat and after a string of events they end up losing it. This is something that I found to be a constant worry while watching the kids get deeper and deeper. Will they find the car? Where is the car? Is it in one piece? Obviously you know everything will be OK; but you know the movie is working when you're thinking about it. Of course everything that does happen is pretty cliched, kids being trapped in the city (Chicago) at night you know what to expect. Nothing horrendous obviously as the movie was for kids but the usual stereotypical 80's stuff. Lots of bums, hookers, weirdos, criminals that are generally black or mafia-like, some classic 80's street gangs in some attire to die for, and of course frat boys. Because what 80's flick is complete without frat boys, required or not. But the main crux surrounds the kids being continuously chased by some criminals because they accidentally picked up a [i]Playboy[/i] magazine with some important criminal details written inside. Chris and co manage to stumble into a jazz club where they are forced to sing the blues. This whole sequence was certainly silly and embarrassing that's for sure. I know this is a movie but who would have time for a sing song in this situation?? But this sequence did also remind me very much of 'The Blues Brothers' especially with Albert Collins on show. Later on in the movie the kids wind up at a frat boy party (because...80's) where we see the usual beer chugging tomfoolery along with high school sluts. But we also see another musical cameo from Southside Johnny Lyon which again gave me those Blues Brothers vibes. The soundtrack for the movie is very good overall, some nice soul and blues going down. As the adventure progresses the kids meet up with various folk who either help them or don't quite simply. All the while annoying Brenda is having a nervous breakdown in the bus station over not very much really. The whole deal with Brenda felt really out of place, just too stupid. I understand she's a teen but Jesus Christ get a fucking grip girl! Gotta say, Maia Brewton who plays little Sara was annoying too with her Thor obsession (yes Thor). This all plays into the sequence where the kids meet up with Dawson (Vincent D'Onofrio), the mechanic who has their car towards the end. This guy has long blonde hair (a terrible wig on D'Onofrio) and carries a sledgehammer that looks like Thor's hammer, so Sara thinks its Thor (ugh!). They owe Dawson $50 for a tyre (only 50! how times have changed), but only have 45, so Dawson refuses. But then little Sara offers him her kids Thor helmet (cos she's dressed as Thor the entire movie), and Dawson suddenly changes his mind, just like that. Deus ex machina Thor helmet moment. Hell in the finale the kids end up at the top of a skyscraper and Sara flippin' climbs out of the window and shimmies down the glass onto a ledge! She's being chased by one of the bad guys yes but my God! Its at this point I started to question director Chris Columbus's motives. Clearly he did this just to raise the stakes, make things more thrilling, but its essentially really stupid because no kid would do that. Also the carjacker that initially helps the kids, knocks out his criminal boss to help them finally escape. But what happens to him? Does he wind up getting whacked for punching his boss? Or does he give up his life of crime and start over? Who knows. Naturally everything works out in the end with a Ferris Bueller-esque finish that is reasonably enjoyable. Even though I was engaged in the unfolding events I was never worried about things not working out, obviously. Even though (as I've said) this is a classic 80's flick, in all honesty there are better ones out there in my humble little opinion. This movie is fun but lacks some real talent of the time. There are so many characters that could have easily been cameos for big name comedians of the era. The movie tries to be funny, witty and at times edgy but it tends to fall a bit flat. The music is a highlight as are the glorious retro inner city visuals; but the main characters are kinda irritating and can't hold a candle to other 80's movie casts. In the end its still hard to believe that this entire chain of events happened simply because of one ditzy girlfriend and her own foolishness.
Phil Hubbs
Super Reviewer
½
A rather silly yet mildly enjoyable comedy that belongs in the '80s with its cheesy, dated jokes and inane sense of humor (as when someone calls another a homo as a slur), and today it won't be seen as more than an ordinary pastime that can still offer a few laughs.
Carlos Magalhães
Super Reviewer
"Adventures in Babysitting" is honestly one of the cheesiest films that I have ever seen. As a seventeen year old is stood up by her boyfriend, she is subdued to babysit for a little girl. This quickly turns into having to babysit her brother and his friend. I do not have much to say about this movie. It is fun for the first half hour, that is when you know what you're in for and you wait to see something hilarious happen. Truthfully, I was very let down, seeing as the film kept it's slow pace throughout, and I felt no real tension when they were intending it. Overall, it's written for little kids even though there is far too much adult references for kids to see, the director seems like he had a lot of fun making it, which is not necessarily a good thing, the one-liners are almost dreadful, and the situations made me role my eyes so much that I got bored. Also, it is about 20 minutes too long and could have had a much wittier writer. But it's harmless and I guess I liked it a little bit.
Adventures in Babysitting Quotes
| | |
| --- | --- |
| Gang Member: | Don't F@*# with the lords from Hell!!! |
| Gang Member: | Don't F@*# with the lords from Hell! |
| Chris Parker: | Don't F@*# with the babysitter!! |
| Chris Parker: | Don't F@*# with the babysitter! |
| | |
| --- | --- |
| Blues Club Performer: | "Nobody leaves here without singin' the blues." |
| Blues Club Performer: | Ain't nobody leaves here without singing the blues. |