Adventures in Babysitting
(2015)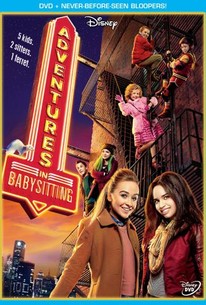 Adventures in Babysitting Photos
Movie Info
In this update of the '80s classic, school rivals Lola (Sofia Carson) and Jenny (Sabrina Carpenter) must put aside their differences to corral the kids Lola is supposed to be babysitting before their parents find out.
Critic Reviews for Adventures in Babysitting
Audience Reviews for Adventures in Babysitting
Having little to absolutely no expectations going into this film, I did not expect much from this Disney Channel remake of Adventures in Babysitting. I believe it to be unfair to judge this film solely on how it stands up to the original, due to the fact that the original was meant for slightly older kids. This film being for a very young crowd, is a harmless remake in the sense that kids can enjoy it. Was it really necessary to have a remake to a film that nobody really talks about anymore? Probably not, but is that not why most films are remade in Hollywood these days. I have come to forgive the fact that eventually everything will be remade. As long as they change it up for a new generation I am willing to accept it. Some remakes improve on the original, most fall short, and then there are remakes like this. Lets discuss Adventures in Babysitting and why it was completely unnecessary. Following a duo of babysitters who have a feud outside of their job, it is clear that the film will become cliched right off the bat. Both trying to get into photography, they are both up for the same position and then must learn to become friends to protect the children from evil. You will see everything coming from a mile away and even though the original film does the same, at least it was not afraid to go dark at times to create a more grounded feel. Disney Channel has become both too commercial and too kid-friendly nowadays, but that is fine if the emotion of the film is still present, which this film actually lacks. Due to the fact that the outcome is so cliche, there is really no raw emotion to back up the film, even though the writers did make a valiant effort. You can tell they were trying to make the best of what thy were given to work with, but it ends up being a sloppy final product. Not thinking about the original, this film does stand on its own, and even though the original is better film, it wasn't all that great to begin with. That begs the question of why this film was made in the first place. With a story this simple and cliched, the cast needs to be tip top for me to buy into any of the events occurring throughout this film. I can gladly confirm that the cast is definitely the strongest aspect of this film. I personally feel that Disney Channel shows hit rock bottom after the early 2000s, and while there are a few decent kids shows still on the air, this is definitely the one area Disney is lacking in. That being said, I think the television show Girl Meets World is the best thing to come from the Disney Channel in years. If kids should be watching anything from this channel, it should be that. One of the stars of Girl Meets World, Sabrina Carpenter, takes the lead in this film and delivers a very fun performance for what she has to work with. The kids, the second babysitter and the rest of the cast all work together as well. It is a far better cast than I was expecting from a remake of Adventures in Babysitting, but that doesn't come without the farfetched ages of everyone. None of these kids acted their age, which completely threw out any realism attached to this film. The babysitters looked like they would have maybe been halfway through high school, but the plot has they going off to college. This was a huge turn-off for me, but again, the film is for kids. Filled with ridiculous scenes, childish humour, and a plot that is more predictable than most of the Disney Channel sit-comes, Adventures in Babysitting is less than stellar to say the least. That being said, I am insanely far and away from the demographic that should be viewing this film, so I will give it the benefit of the doubt when I say that I probably would have had a lot of fun watching this film as a ten year old kid. For kids, there is a lot of fun to be had, but to put it plain and simple, it is an unnecessary remake to a film that was just okay to begin with. Unless you are a kid, there is not much enjoyment to be had here. For kids, it does its job well enough. My advice is to take these statements with a grain of salt and view this film is you have seen the original. Otherwise, it may just be a waste of time.
Adventures in Babysitting Quotes
There are no approved quotes yet for this movie.