The Adventures of Huck Finn
(1993)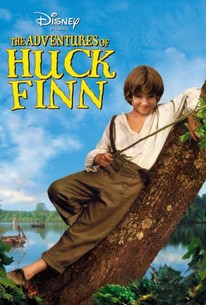 The Adventures of Huck Finn Photos
Movie Info
This eighth adaptation of the timeless Mark Twain novel casts Elijah Wood as Huckleberry Finn, the half-literate son of a drunk who runs away from home and follows the Mississippi River with an escaped slave named Jim (Courtney S. Vance). Along the way, the duo encounter adventures with colorful characters like The King (Jason Robards) and the Duke (Robbie Coltrane), two con men who impersonate British visitors in order to swindle two sisters out of their fortune, and Susan Wilks (Laura Bundy), the spunky 12-year-old girl who gives Huck his first kiss. Jim also re-educates Huck away from the racist views that he has grown up with. Not the most in-depth version of Twain's tale, The Adventures Of Huck Finn is a solid retelling of the classic story.
News & Interviews for The Adventures of Huck Finn
Critic Reviews for The Adventures of Huck Finn
Audience Reviews for The Adventures of Huck Finn
I remember liking this much more as a kid. Now, I just find the beginning and middle incredibly slow - especially the Wilkes brothers' imbroglio. Perhaps my erstwhile liking of the whole is influenced by my absolute love for the heartbreaking scene in which Jim almost gets lynched after Huck gets shot. *Tears!*
Alice Shen
Super Reviewer
One of my favorites when I was younger and it still holds up today. The landscape is beautiful and the acting is great. Elijah Wood gave an amazing performance as Huck Finn and completely embodied the character. Stephen Sommers made a fun and lovable story even more accessible.
Conner Rainwater
Super Reviewer
½
As it's based on one of my favorite books I watched this movie a lot when I was younger. It still holds up and has a cast that pulls off all the roles with ease.
Jason Spencer
Super Reviewer
The Adventures of Huck Finn Quotes
| | |
| --- | --- |
| Huckleberry Finn: | Personally, I don't see no glory in punchin' an ignorant lardass. But, I gots to! |
| | |
| --- | --- |
| Huckleberry Finn: | Personally, I don't see no glory in punchin' an ignorant lardass. But, I gots to! |