The Adventures of Rocky & Bullwinkle
(2000)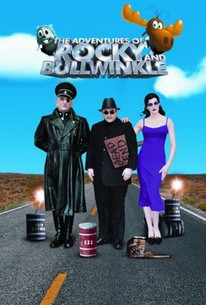 The Adventures of Rocky & Bullwinkle Photos
Movie Info
The pride of Frostbite Falls and Whatsamatta U's most famous alumni find their way onto the big screen (and the real world) in this comedy inspired by the popular cartoon series. Years after their TV show is cancelled, Rocky the Flying Squirrel (voice of June Foray) and Bullwinkle J. Moose (voice of Keith Scott) are barely getting by on residual checks; they're wondering what to do next when Fearless Leader (Robert De Niro), the evil genius of Pottsylvania, transforms himself from a cartoon into a living, breathing, nasty human being, thanks to the assistance of television executive Minnie Mogul (Janeane Garofalo). With the help of his newly flesh-and-blood henchmen Boris Badenov (Jason Alexander) and Natasha Fatale (Rene Russo), Fearless Leader plots to take over the world by using television to zombify people and then persuading the masses to elect him president. Can the daring flying squirrel and the well-meaning but not especially bright moose stop them? Unlike the TV show, which made a virtue of its unsophisticated animation, The Adventures of Rocky and Bullwinkle employs a technically sophisticated blend of computer-generated animated characters (Rocky and Bullwinkle) and live actors (Fearless Leader, Boris, and Natasha). Human beings making guest appearances include Randy Quaid, John Goodman, and Jonathan Winters.
Critic Reviews for The Adventures of Rocky & Bullwinkle
Audience Reviews for The Adventures of Rocky & Bullwinkle
½
Pessimo roteiro e direção.
Lucas Martins
Super Reviewer
½
one of the earliest movies i saw and i still think its pretty good not as good as the first time i saw but its still good
Michael Edwards
Super Reviewer
½
I thought it was laugh-out-loud enjoyable for it's stupidity! I thought it was well made as what it was made for! It did something new, and I admire that!
The Adventures of Rocky & Bullwinkle Quotes
| | |
| --- | --- |
| Fearless Leader: | You talkin' to me? You talkin' to me? You talkin' to me? Then who the else are you talking Well I'm the only one here so you must be talking to me |
| Fearless Leader: | You talkin' to me? You talkin' to me? You talkin' to me? Then who the else are you talking. Well I'm the only one here so you must be talking to me. |
| | |
| --- | --- |
| Fearless Leader: | There has never been a way to actually destroy a cartoon character until now. |
| White House Mole: | What about that movie Roger Rabbit? |
| Fearless Leader: | : Shut up. This is totally different. [pauses] There has never been a way to actually destroy a cartoon character until now. |
| Fearless Leader: | : Shut up. This is totally different. There has never been a way to actually destroy a cartoon character until now. |
| | |
| --- | --- |
| Boris Badenov: | We don't need computer weapon to kill moose and squirrel. We've been trying to kill moose and squirrel for 35 years. |
| Natasha Fatale: | And we've never even come close. |