The Adventures of Sherlock Holmes
(1939)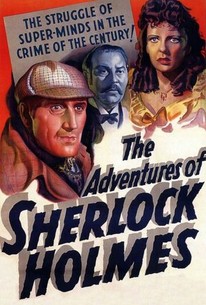 The Adventures of Sherlock Holmes Photos
Movie Info
Basil Rathbone and Nigel Bruce make their second screen appearances as Sherlock Holmes and Dr. Watson in The Adventures of Sherlock Holmes. Ostensibly based on the stage play by William Gillette, the film owes nothing to the play beyond the characters of Holmes, Watson, Billy the page boy and Professor Moriarty. Played with relish (and a bit of pickle) by George Zucco, Moriarty plots to steal the Crown Jewels, and also to confound Holmes by obliging the Great Detective to be in two places at once. Ida Lupino costars as an imperiled young woman who is seemingly plagued by an ancient family curse--a plot development that has been carefully stage-managed by the malevolent Moriarty. Basil Rathbone is excellent not only as Holmes but also in the guise of a cockney music-hall entertainer (if indeed that is Rathbone performing a buck-and-wing in longshot). The second of Twentieth Century-Fox's Holmes films (Hound of the Baskervilles was the first), The Adventures of Sherlock Holmes was the last in which Rathbone and Bruce were seen in a 19th century setting. In the subsquent Sherlock Holmes series at Universal, the exploits of Holmes and Watson were updated to the World War II years.
Critic Reviews for The Adventures of Sherlock Holmes
Audience Reviews for The Adventures of Sherlock Holmes
½
Another excellent outing for Rathbone and Bruce as Holmes and Watson. This time Holmes faces his most well known nemesis Moriarty. The film begins with Moriarty being found innocent of murder, with Holmes bursting into the courtroom just a few seconds too late. After the courtroom scene we see Holmes and Moriarty talking together like real competitors, without the hate you'd find between most enemies. They certainly have admiration for each other, and this admiration makes the film so enjoyable. Despite the fact that people's lives and reputations are at risk, you can easily tell they enjoy competing with each other. Moriarty then sends Holmes on a number of wild goose chases to conceal his real crime. I did like seeing Moriarty by himself and his love for plants. His clearly showed him as having a limited connection with humans. A simple act of not watering his plants also showed his talents are similar to Holmes'. Unfortunately, telling the audience that the mysteries are wild goose chases means we are waiting for Holmes to catch up with us. Like the previous effort the setting becomes a character in itself. The occupied streets of London are just as cold, dark, and sinister as the moors. This kind of makes the murders even more devilish. Watson is used more for comedic relief, which is annoying at times, as he ends up getting blamed for things that go wrong. Rathbone is at the centre stage here and he holds it well. He is always calm, but adds a sense of urgency when needed to heighten our excitement. His disguise was once again brilliant, and I didn't guess it this time. A great stylish offering.
Luke Baldock
Super Reviewer
One of the earliest Holmes movies with Basil Rathbone in the lead is one of the better entries in the series. Rathbone and Bruce make a wonderful team but what helps separate this from the others is the casting of a very young Ida Lupino in the menaced maiden role, usually the endangered lady was a pretty but utilitarian actress of minor note. Ida was on her way up at this point and within the year would break through to the majors in "They Drive By Night" and her star quality shines through here making her plight and the mystery more involving. The film itself has good production values and moves at a brisk pace.
It was okay. I was really bothered by the characterization of Watson, who was basically turned into a bumbling idiot and appeared to be more Lou Costello then the trusty companion of Sherlock Holmes.
Marion Ravenwood
Super Reviewer
The Adventures of Sherlock Holmes Quotes