Adventures of the Penguin King 3D
(2013)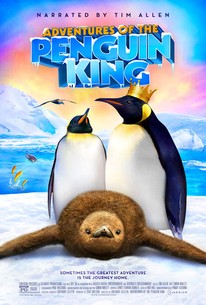 Adventures of the Penguin King 3D Photos
Movie Info
Rex, a young King Penguin, has been away from his home for three years, learning to hunt in the wild oceans, but now he's back - in Penguin City. His mission: to find a mate, settle down and raise a chick. But can he survive the numerous predators and the harsh conditions on an isolated island at the bottom of the world? This is the journey of a typical bachelor King Penguin from awkward adolescent to accomplished adult. It's a family tale, of love and adventure, tragedy and triumph - all told through the charismatic and charming natural actors, the penguins of South Georgia. Stunning cinematography takes us into Penguin City, on an extraordinary sub-Antarctic island, home to majestic albatrosses, brawling elephant seals - and six million penguins. Narrator Tim Allen (Disney Nature's Chimpanzee, Pixar's Toy Story) brings added warmth and humor to the tale, aided by a funny and dramatic script by Phillip LaZebnik (Pocahontas, Mulan, Prince of Egypt). Though our hero's harsh world may be alien to our day-to-day lives, his struggle will be familiar to us all. (c) Cinedigm
News & Interviews for Adventures of the Penguin King 3D
Critic Reviews for Adventures of the Penguin King 3D
Audience Reviews for Adventures of the Penguin King 3D
I adore penguins, I love them with all my heart. So after I received the Blu-ray for Christmas, I just had to set up all of my cuddly toy penguins on the sofa so we could watch this together. It was a great experience to see such stunning photography in beautiful resolution. Those familiar with penguins wont be too surprised by anything in this documentary, but Attenborough's voice echoes with authority. The film also contains some extraordinarily delicate moments such as penguin realising the egg he has been incubating is actually a rock. I just wanted to curl up and cry. Seeing these creatures in their natural habitat really does slap a smile on my face and I hope to see more penguin documentaries in the future. It's a heartwarming tale about a penguin finding love and raising his child.
Luke Baldock
Super Reviewer
Adventures of the Penguin King 3D Quotes
There are no approved quotes yet for this movie.