Advise and Consent
(1962)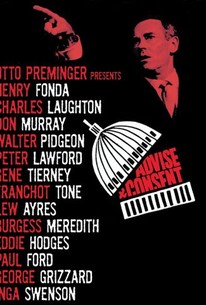 Advise and Consent Photos
Movie Info
The first of Allen Drury's "all names changed to protect the guilty" political novels, Advise and Consent was brought to the screen by producer/director Otto Preminger. The film hinges upon the appointment of Robert Leffingwell (Henry Fonda) to Secretary of State. Leffingwell has been hand-picked by the President (Franchot Tone), meaning that there'll be a battle on the Senate floor between adherents of and opponents to the current administration. Among the participants are veteran Dixiecrat Charles Laughton, freshman Senator Don Murray and powerseeker George Grizzard. Burgess Meredith also shows up as a man who is brought into the Senate to "prove" that Leffingwell is a communist. To neutralize Murray, Grizzard threatens to dredge up a homosexual incident in Murray's past, which results in the latter's suicide. Advise and Consent is a slow and old-fashioned film, coming to life only when Laughton and Grizzard are on screen--and in the climax, in which the fate of Leffingwell's appointment is left in the hands of acting President Lew Ayres.
Critic Reviews for Advise and Consent
Audience Reviews for Advise and Consent
A brilliant examination of American politics, blind hypocrisy, idealism, and self-interest. For my money, it's one of Don Murray's finest performances. The sets and locations are excellent, and as best as I can tell, at least some are authentic. (The film's trailer indicates that certain scenes were actually filmed in a real senate committee room!) Altogether, an excellent and exciting film.
Christian C
Super Reviewer
A great political drama full of marvelous performances from all involved. Ahead of itsâ(TM) time in the examination of political witch hunts and blackmail, as well as other taboo subjects very rarely examined in film at that time. A fantastic script and good direction make it both enthralling and tense.
Jeffrey Meyers
Super Reviewer
The prospect of a great ensemble cast, Otto Preminger directing and tale of political ugliness surrounding the confirmation of a new Secretary of State should be enough to pull anyone in. Unfortunately all the dust Advise and Consent kicks up in the first act doesn't really stay in the air too long and by the time a lot of the things that were set up early on in the movie finally happen in the last 20 minutes, you can't really bring yourself to care or be surprised. The cast was good despite many of them (Henry Fonda included) disappearing like drunken party guests in search of someplace to pass out and the rest not seeming entirely necessary at all. Overall, Advise and Consent overstays its welcome after shifting its focus too many times and overstaying its welcome for about a half hour. Not too bad (Charles Laughton stole the show) but there are reasons you don't hear about this one too often...
Michael Gildea
Super Reviewer
Advise and Consent Quotes
There are no approved quotes yet for this movie.