Aeon Flux
(2005)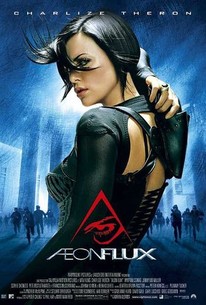 TOMATOMETER
AUDIENCE SCORE
Critic Consensus: Aeon Flux lacks the gravity-defying pace of its animated predecessor, and, despite some flash, is largely a dull affair.
Movie Info
Four hundred years in the future, Aeon Flux is the top underground operative at war with the totalitarian regime governing what appears to be a perfect society. But is this perfect life hiding a perfect lie? Aeon is on the front lines of a rebellion that will reveal a world of secrets.
Critic Reviews for Aeon Flux
Audience Reviews for Aeon Flux
"Great action! Charlize Theron kicks some major ass in this movie and she looks awesome doing it. I really didn't know much about this film or what it was about. I stumbled upon it on Netflix streaming. I thought I would watch thirty minutes of it just to get a feel of it. Before I knew it the film was over. I completely got swept away into the story. It was unlike any film like I had seen before and I found that refreshing. The story is fast and there is never a dull moment. I enjoyed it a lot and thought it was a good sci-fi action flick. I don't enjoy much of them, but this one is worth seeing."
♥˩ƳИИ ƜѲѲƉƧ♥
Super Reviewer
Aeon Flux is a pointless action film that can only be described as a complete mess. The action was elaborate, but I felt there was too much going on to make this a good film. The film focused more on the action and special effects than it did on story and substance. Theres very little going on in the film to really make this a memorable action film. I love mindless action films, but Aeon Flux misses the mark in that respect. The acting I felt was sloppy and the directing wasn't that great. The way the story moved along was pretty clumsy and I really lost interest after a while. This is one of Charlize Theron's worst films and what really sucks is that Aeon Flux could have been something good. Instead the film is a lazy attempt at trying to dazzle the viewer with great special effects that tries to cover up the paper thin story and wooden acting. The idea of the film was good, but it was poorly executed and the results are a film that mildly entertaining but never reaches its potential and by the time the credits role, you realize how much Aeon Flux was a mediocre picture that could have been much better. Whats really a shame is that theres some good, talented actors such as Frances McDormand and Pete Postlethwaite are wasted here. Aeon Flux could have been a great film, but the filmmakers opted to conjure a special effects laden film instead, which doesn't work.
Sadly, this is nothing like its animated counterpart. It's stupid, corny, pretentious and horribly acted. It retains none of the elements that made the TV show so cool. Charlize Theron certainly looks the part, but she just doesn't put forth the effort necessary to play a machine gun wielding assassin. Some of the concepts are just downright hard to believe (hand-feet???). The only thing I liked was the girl fight really. The CGI is almost hard to watch, it looks as though some things were even unfinished. I really wish I could say this is enjoyable on some level, but it's really not.
Conner Rainwater
Super Reviewer
Aeon Flux Quotes
| | |
| --- | --- |
| The Keeper: | Welcome back. |
| | |
| --- | --- |
| Aeon Flux: | I had a family once, I had a life. Now all I have is a mission. |