Affair in Trinidad
(1952)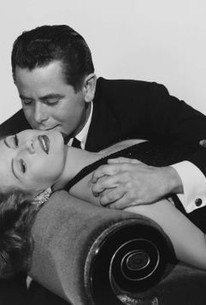 AUDIENCE SCORE
Critic Consensus: No consensus yet.
Affair in Trinidad Photos
Movie Info
In this romantic spy thriller, a nightclub performer plys her trade in her husband's Trinidad bar. He is murdered by a notorious spy. Soon afterward, the police ask the widow to try to get close to the killer and gather information. Her work is nearly thwarted when her bumbling brother-in-law appears, looking to bring the killer to justice himself. This film marked the return of bombshell Rita Hayworth who had retired from movies during her marriage to Prince Aly Khan.
Critic Reviews for Affair in Trinidad
Audience Reviews for Affair in Trinidad
Rita looks great and Glenn is his usual pugnacious self but this attempt to strike gold again with the "Gilda" stars is rather routine.
Another one of those movies on the list from the Ross Elliott List on IMBD Data Base. Even though he only played Corpse of Neal Emery, thel late husband of Rita Hayworth, in this movie, I guess his part lasted all of 12 sceonds if that. But it introduced me to the acting of not only the Beautiful ms Hayworth but it showed me a side of Glenn Ford I never saw before, I just wasn't used to seeing Gleen duke it out with someone. Its a great movie, Rita Hayworth's husband while living in Tridad is found dead, the first report is suicided but we all know that doesn't make a movie, only murder does, So in the movie we track who the killer was, and yes even this many years after WWII we are still trying to connect the German's with the plot of overthrowing the USA, gee what ever happen to than and how much money was wasted, kind of like the Terriost threat of today. anyway its a great movie, Rita shows her talent and beauty. Buy it, rent it, borrow it but most of all see it. 5 Stars
Bruce Bruce
Super Reviewer
Pretty typical WW2 Espionage flick, but Rita and Glenn's chemistry here doesn't even approach what they had in Gilda. Fans of Hayworth will enjoy the dance sequences. Also contains the gem of a line "Didn't you used to write articles about the V2 rocket before the war?"
Ken Stachnik
Super Reviewer
Affair in Trinidad Quotes
There are no approved quotes yet for this movie.