After
(2012)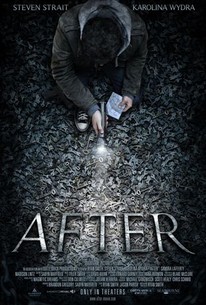 AUDIENCE SCORE
Critic Consensus: No consensus yet.
Movie Info
When two bus crash survivors awake to discover that they are the only people left in their small town, they must form an unlikely alliance in a race to unravel the truth behind their isolation. As strange events begin to unfold, they start to question whether the town they know so well is really what it seems. -- (C) Official Site
Critic Reviews for After
All Critics (2) | Fresh (1) | Rotten (1)
the SF and horror here come thoroughly grounded in character, and even the hellhound that plagues this locked-in pair is, for all its toothy immediacy, a very personal demon. And so After is ultimately a twisted tale of boy meets girl...
The actors try hard, but the mercilessly derivative, emotionally pat script stifles their efforts at every corner.
Audience Reviews for After
Late one night, a young man and a young women are taking the bus home. They are chatting and nothing seems out of the ordinary, until there is a big crash. Following the crash, they both wake up safe and sound in their own beds, but as they begin their day, they realize that they are completely alone in the town, and a dense fog is moving in on them. This film is centered on the premise of solving a mystery, what happened to these people and where is everyone else? The actors run around for an hour and a half trying to figure it out, because they are stupid. I had "the big secret" figured out, five minutes into the movie, and that's the problem. If you genuinely don't realize what's going on, and follow along with these two, you might really enjoy this film. If you're like me, however, you will see these two as dumb, and quickly get bored. Steven Strait and Karolina Wydra star and don't do a bad job, it's difficult to hold the audiences interest, when their are only two stars in the entire film, but they manage to do so admirably. Maybe I didn't like this movie as much as I should have or as much as others will, because I did have it all figured out early on. I didn't find the film to be bad, I just felt that it was very on the nose. The secret should have been revealed sooner and more of the film should have been dedicated to it's resolution, for those of us who did manage to figure it out.
Todd Smith
Super Reviewer
This is a really cool film. I wasn't expecting much from this movie, but it really surprised me. Interesting story and progression, solid character development, and good action and horror. This was a total netflix gem.
Stephen Skudlarek
Super Reviewer
½
I think this film offers a surprisingly unique little twist on a story we've seen many times in the past. That is the whole last two people in the world concept by actually acknowledging, fairly early on, that they may be dead or in a coma, which is what happened, nipping that played out tropes as to what may have happened to them in the bud. The other twist in the film is that the world these two are inhabiting is of their own creation. I mean they are in their hometown but what happens is, the black wall and the monster, are stuff these two created when they were kids. Freddy liked to draw comics and Ana wanted to be a writer. So they take Freddy's comics and Ana's story, which included a monster, and they incorporate it into what's happening to them during the coma. It's not like this is a revolutionary idea, but I do think it gives this film, that I wasn't expecting a lot out of, an element of surprise. Perhaps that's the wrong word to describe, since you're not exactly surprised at what's happening, it's just that it wasn't expected. At least there's an effort put on by the screenwriter(s) and crew to do something that, while drawing heavily from its inspiration, still has its own identity and 'innovations'. That's not something you can say about a lot of filmmakers out there. I do think the film's problems lie in the fact that its storytelling, while different and fairly satisfying if you're a casual viewer, isn't exactly the most satisfying. While Ana confronting her own personal demons is done in a fairly clever way, the whole narrative of Ana and Freddy falling in love with each other isn't particularly satisfactory. It's not that they're unlikable characters, which they're not, it's just that the whole romance stuff at the end does feel a little bit forceful. It just feels like it's something they had to do rather than something that comes about in a completely natural and organic manner. I know there's this reveal that shows they're tied together for life due to an event when they were both kids, but I don't think that's enough for me to invest emotionally in this romance. It's not that the leads don't have chemistry, because they do, it's just that I just didn't buy that these two would be in love after such a short period of time. It's one of those things that happens in movies and it doesn't really work here either. With that said I do think the movie does look better than what one would normally expect from a low budget film. And the acting is perfectly solid. In the long run, in spite of my rating, I think the film does offer something that is worth watching. It might not be a good film, but it does enough little things that are different that make this movie worth giving a shot to.
Jesse Ortega
Super Reviewer
After Quotes
There are no approved quotes yet for this movie.