After the Dark
(2014)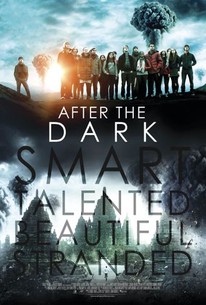 Movie Info
AFTER THE DARK is set at an international school in Jakarta, where a philosophy teacher (D'Arcy) challenges his class of twenty students to a final thought experiment. Faced with an impending nuclear apocalypse, they must determine which ten of them would take shelter underground and reboot the human race. The decision quickly becomes deadly as each in the group turns against each other in a desperate fight for survival that blurs the lines between theory and reality. (c) Phase 4
Critic Reviews for After the Dark
Audience Reviews for After the Dark
½
Intriguing and artsy -- a group of students imagines various scenarios of global disasters and selecting what people would survive. A thought-provoking inquiry into human nature, society and the valuation of human lives. The acting is adequate (with several Harry Potter alumni) and nice sets, even if limited. The film is not particularly cinematic -- one imagines that the story could as easily been told as a stage play. Nevertheless, the experience is worthwhile.
Christian C
Super Reviewer
½
A philosophy class of British students in Jakarta ponders a thought experiment: its the end of the world: who stays, who goes, who survives. It makes for an interesting premise, interestingly played out. Typical of the Brits, understatement is the calling card and used to good effect. When there is violence its a bit shocking for that. There are no standout players, no real starring parts, and so an ensemble work and competently done. In the end an different sci-fi answer to the ton of dystopian future scenarios floating about, one that leaves hope on the table, and I can't fault that at all.
Kevin M. Williams
Super Reviewer
This could have been a great film if the story didn't derail itself in the final scenes. For the most part though, this is a smart existential science fiction that manages to dramatize philosophical thought in an interesting way. A thorough examination of choices and their consequences.
Edward Boxler
Super Reviewer