After the Sunset
(2004)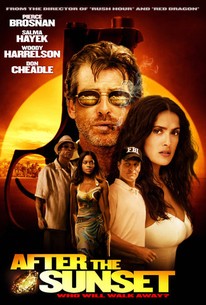 Movie Info
Max "The King of Alibis" Burdett and his beautiful accomplice Lola have come to Paradise Island in the Bahamas, fresh off their final big score in which they lifted the second of the three famous Napoleon diamonds. With their financial future set, the couple is ready to relax and enjoy their hard-earned riches. But Stan, the FBI agent who has spent years in dogged but failed pursuit of Max, refuses to believe that his nemesis is actually calling it quits. He thinks that Max and Lola are actually plotting to steal the third Napoleon diamond--one of the three largest non-flawed diamonds in the world--, which is coincidentally scheduled to arrive on Paradise Island as part of a touring cruise ship exhibition. Since he has no jurisdiction in the Caribbean country, Stan teams with a local cop and sets out to catch the sly Max and Lola in the act, while at the same time a local gangster has his own plans for the diamond. When the longtime adversaries meet up in paradise, Max quickly turns the tables and befriends the frustrated detective, showing him that Paradise Island has no shortage of pleasures to offer. But in order for Stan to figure out exactly what Max and Lola are up to, he will have to navigate all the twists and double-crosses of an action-packed story of friendship, suspicion and thievery
News & Interviews for After the Sunset
Critic Reviews for After the Sunset
Audience Reviews for After the Sunset
A movie with the great Pierce Brosnan can't go wrong really, everything he does, he makes look effortlessly cool. The story about the diamond heist though, seems secondary to the beautiful locations, and Brett Ratner's obcession with filming Miss Hayek's chest from all conceivable angles (not necessarily a bad thing). Although Hayek is SO botoxed that she can barely move her facial muscles to express any kind of emotion. Woody Harrelson and Brosnan make a really funny team, and if they make a sequel, I hope it concentrates on their two characters, because they have a great screen chemistry. 5 Stars 5-2-14
Bruce Bruce
Super Reviewer
½
Well although not rated in the highest aspect at all i still thought this was an okay and watchable movie, even if its just a simple movie to watch on a late sunday evening whilst pottering about!
Film Crazy
Super Reviewer
It is a movie that looks like a James Bond movie but isnt, while Pierce Brosnan acts very much like 007 but the movie does not have all the juice. Well Pierce Brosnan (playing Max Burdett) and Salma Hayek (playing Lola Cirillo) are diamond thieves and have decided to "retire" in the Paradise Islands in the Bahamas. Lola wants them to enjoy their wealth and stay away from crime. An FBI agent (played by Woody Harrelson) still wants to catch them though and almost does.There is lots of action packed drama played out mostly on the beautiful tropical island
After the Sunset Quotes
There are no approved quotes yet for this movie.