Efter brylluppet (After the Wedding)
(2006)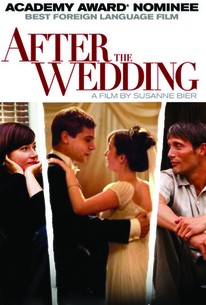 TOMATOMETER
AUDIENCE SCORE
Critic Consensus: The cast brings After the Wedding's melodramatic script to life, creating a movie that is emotionally raw and satisfying.
Efter brylluppet (After the Wedding) Photos
Movie Info
A multi-millionaire wants to know how much his money can really buy in this drama from Danish filmmaker Susanne Bier. Though born and raised in Denmark, Jacob Peterson (Mads Mikkelsen) has made a life for himself in India, where he runs an orphanage for homeless children. While Jacob cares little for money, raising funds is part of the responsibilities of his position, and when he learns that Jørgan (Rolf Lassgård), a wealthy Danish businessman, is willing to donate four million dollars under the condition that he meet with him in person, Jacob grudgingly hops a flight back home. Once in Denmark, Jørgan insists that Jacob attend the wedding of his daughter the next day; at the celebration he meets Jørgan's wife, Helene (Sidse Babett Knudsen), whom he recognizes as someone he knew many years ago. As Jacob finds himself revisiting a past he would prefer to forget, he discovers that Jørgan has an ulterior motive for bringing him to Denmark -- the wealthy man is in poor health, and while the donation will help ease some of his guilt over a life of avarice, he's also looking for someone to take over as Helene's husband after he dies. Efter Brylluppet (aka After the Wedding) received its North American premiere at the 2006 Toronto Film Festival. ~ Mark Deming, Rovi
News & Interviews for Efter brylluppet (After the Wedding)
Critic Reviews for Efter brylluppet (After the Wedding)
Audience Reviews for Efter brylluppet (After the Wedding)
After The Wedding is a meaningful tale of two fathers sharing the same challenges on love, family, sorrow, and irony. A potent strong argument on life affirmation and fatherhood with sophisticated story, cinematic style, and performances. Lovely, surprising, and dignified.
Jan Marc Macababayao
Super Reviewer
A film that really delves deep into the psyche of a family struggling with the family secret that gets revealed, only to reveal another. Some strong performances in Susan Bier's Danish drama, including Mads Mikkelsen of Casino Royale fame and Rolf Lassgard. Although, you can see the plot coming at times, the direction and writing really reveals something extrodinary in these characters that you can relate to. Bier also gives us as an audience, small glimpses into important frames coming in the film, like small pieces in a puzle waiting to come together. Subsequently, developing each character accordingly so that we end up knowing all characters incredibly well. There are also many close-up shots of the characters, which adds to the emotion that these characters feel. One excellent film indeed. *Recomended Watch*
Sarah Gaish
Super Reviewer
I knew nothing about this film before going to see it except that it was Oscar nominated and starred Bond's 'Casino Royale' foe Mads Mikkelsen. But I'd heard good things and despite it being a day so sunny in April that you should really spend it in the park I ventured into the dark cinema. All I can say is that I am so, so glad I did as this has to be one of the best films I have seen this year. Jacob (Mikkelsen) runs an orphanage/school in India that due to funding will have to close if they don't do something quickly, cue a phone call from Denmark where a millionaire is looking to invest some money in a good cause and Jacob has no choice but to go home and try to win over the mystery funder. Cut to Copenhagen and the very rich living of Jorgen and his family, a self-made millionaire Jorgen is preparing for the Wedding of his daughter and as his family gather round the mansion we see that he has a pretty good life. Cut back to Jacob who after living in squalid conditions in India for so long is struggling to understand the swish hotel he's been booked in for his visit. When the two meet to discuss the investment Jacob is over enthusiastic but Jorgen is nonchalant and pre-occupied with the weekends approaching festivities, so much so he decides to conclude the deal on Monday and seeing as Jacob is here on his invitation with nothing to do all weekend he decides to ask him to attend the wedding. So far so seemingly normal. It is at this point that the film takes some dramatic turns and through a series of unexpected events, a few skeletons in closets, the past and emotive performances, becomes a really deep and moving piece of cinema. I don't want to spoil it by saying anymore about it except it's nothing short of brilliant. I haven't seen a film for ages that deals with such negative and positive issues with such compassion and integrity without being hammy or over the top. The direction is flawless, the music is fitting and the cinematography is almost dogma in style but with a certain crispness to it. The performances are outstanding and it's not hard to see why it was Oscar nominated and won countless awards. The way the script is superbly written it reminded of 'Secrets and Lies' by Mike Leigh in the way it captures humans acting realistically in real situations. By the time the film starts to conclude the tissues were coming out to wipe away the tears of sadness and joy, which is a very powerful position to be in for any film, and the audience left the auditorium into bright sunshine glad like me that they'd had chance to see this amazing piece of cinema.
Cassandra Maples
Super Reviewer
Efter brylluppet (After the Wedding) Quotes
There are no approved quotes yet for this movie.