Against the Dark
(2009)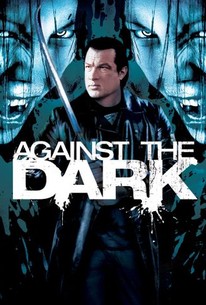 AUDIENCE SCORE
Critic Consensus: No consensus yet.
Movie Info
The human population of planet Earth has been decimated by bloodthirsty vampires, and now the only hope for the few remaining survivors lies in the skills of one man who always lived by the sword. Tao (Steven Seagal) is a katana master who never met a vampire he didn't want to slay. When roving packs of vampires force the few uninfected survivors to seek refuge in an abandoned hospital, the only hope for the human race lies with Tao's special squad of ex-military vigilantes. The only cure for these creatures is execution, and that's Tao's specialty. As the hunt gets underway, Tao and his team make it their mission to ensure that the creatures of the night don't inherit the Earth.
Critic Reviews for Against the Dark
Audience Reviews for Against the Dark
I genuinely cannot think of a sober person who could enjoy this movie. Gorehounds will be dissatisfied with the paltry effects, action-lovers will watch this hoping to watch Steven Seagal kick ass, which he only spends about ten minutes doing, and not to any impressive standard, and for those of you who only care if a movie is "good", you'll be just as upset, because it's... Well... Not. If you read the DVD blurb, it sounds like a good premise, well, it LIES! Not only because it's actually rubbish, but also because they have part of the plot, and all the characters' names wrong. Now, I know that's probably not Steven Seagal's fault, and honestly, the guy did come up with a sweet idea, but literally not a single thing showed through in the execution. Not to mention the fact that he's basically nothing more than a support-role. There are about as many holes in the plot as a junkie's arm on payday, so even if the acting wasn't the most appalling that I've reviewed so far (which it is), it'd still be woeful. Also, the vampires are more, Zombies with pointy dentures than vampires, not in a cool 30 Days of Night kind of way, just a "Oh-lets-go-the-cheap-shit-route-and-hope-nobody-notices" kind of way. It's a bland feature with little to no good moments. Poorly filmed, and I can't understand why, what everybody paid to see was 90 minutes worth of the above picture happening real-time. Instead you get five or ten of that, fifteen of Seagal's eyecandy offsiders, and an hour of a random group of terrible "actors" annoying the FUCK out of me in every scene. Taking it all back to the beginning, I did say no sober person could enjoy this, although I think it has a bit of potential as that quater-attention-giving movie you put on in the background while you play a game of Kings that everybody talks over until the most annoying bitch dies and you all drunkenly laugh at the screen, despite not really remembering why. Who knows though, next time round we could have Steven Seagal play a vampire (an actual one this time) that'd be cool... maybe. 20% -Gimly
The first time I ever seen Steven Seagal appeared in this horror movie, but quite also action is to hunt mutants alike vampires. Believe it is familiar to The Legend. All cast are average and the action scenes are not much excitement for me.
Dean McKenna
Super Reviewer
Total rip of many other better films, copycat almost. Virus that causes blood craving zombie vampires spreads and infects many, enter group of Seagal led leather trench coat wearing hard nuts, Steven Seagal saves the world, the end. (oh and Seagal has a bloody stupid name...Tao)
Phil Hubbs
Super Reviewer
Against the Dark Quotes
There are no approved quotes yet for this movie.