Agatha
(1979)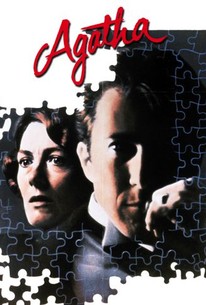 Movie Info
What happened when best-selling mystery novelist Agatha Christie disappeared for 11 days back in 1926? The British Agatha "answers" that question. Vanessa Redgrave is cast as Ms. Christie, who vanished from her home not long after her husband (Timothy Dalton) informed her that he was leaving her. Nearly two weeks later, after being the subject of a nationwide search, Christie showed up none the worse for wear at a health spa in Yorkshire, insisting that she could remember nothing of her experiences during her disappearance. According to scriptwriters Kathleen Tynan and Arthur Hopcraft, Christie was located before her return by American reporter Wally Stanton (an uncomfortable-looking Dustin Hoffman), after enjoying a brief romantic fling with the authoress. The journalist decided to keep his discovery a secret. Another plot wrinkle concerns Christie's plan for revenge against her errant husband -- a scheme with all the earmarks of a Miss Marple or Poirot whodunit. Agatha represented former TV director Michael Apted's matriculation to A-pictures with major stars; he fared better with his subsequent endeavor, Coal Miner's Daughter (1980).
Critic Reviews for Agatha
Audience Reviews for Agatha
½
Agatha is a powerful drama that is brilliantly acted and directed. This is an engaging film experience that boasts a wonderful cast with a great story. Dustin Hoffman and Vanessa Redgrave truly shine here, and it is a film that will certainly delight classic film fans. Michael Apted's direction is fluent, and near perfect, and he can clearly craft a movie that stands out in terms of rich storytelling. I really thought that Agatha was a wonderful film, which based on a real life ordeal of famed crime author, Dame Agatha Christie. Vanessa Redgrave is spectacular and perfect in the lead role, and the rest of the cast fit nicely along Redgrave. What we have here is an entertaining film that is engaging from start to finish. The plot is interesting and compelling. There are things that could have been improved upon, and the script could clearly have been polished up a bit, but for what it is, it's a worthwhile film that is very good and is a must for viewers that enjoy a good drama. Agatha does fall short in some areas, like I've stated before, but it is nonetheless a picture that is held together with strong performances, and in the end, that's all that matters because what we have here is a film that overcomes its shortcomings by its cast. Sometimes that's all you need. Maybe one day they'll be a fully fledged, well detailed biopic on the life of Agatha Christie, until then, a film detailing a mysterious period of her life will suffice. Consideri8ng that Agatha Christie is such an icon of 20th century literature, you'd expect a slightly better film. Well, this is a good film, but it is flawed, and it could have been much better than the final product.
Agatha Quotes
There are no approved quotes yet for this movie.