Age of the Dragons
(2011)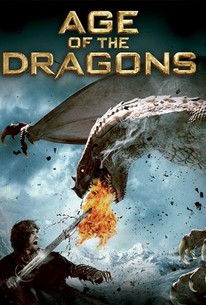 Age of the Dragons Photos
Movie Info
Saints and Soldiers director Ryan Little offers this inventive take on Herman Mellville's Moby Dick, substituting that tale's elusive white shark for a mythical dragon pursued by a determined Captain Ahab (Danny Glover) and his devoted band of followers.
Critic Reviews for Age of the Dragons
Audience Reviews for Age of the Dragons
½
Reworking of classic novel 'Moby Dick' but this time using dragons as the game or hunt as it were. To be honest this is a really neat little idea, the only problem is its been made poorly which is a shame. I think this could of worked had a little more time and money been invested, the cast are OK I guess...for an action type film. Danny Glover is a little miscast as Ahab perhaps but Vinnie Jones does surprisingly well as does the hero Sevier as Ishmael. Nothing to rave about of course but the cheesiness of it all suits them fine and you know to expect ham. Of course the effects are slightly off-key, CGI is average but shows promise, even the use of old stop motion techniques used by Harryhausen are utilised at one point which almost works (oddly it looked better in the old mythology films of Harryhausen). Then you do have silly things which needed more planning such as the Pequod as a wheeled land tank/ship thingy. This didn't really work as it was way too small looking, it was like the Tardis, small on the outside yet apparently huge on the inside with about eight adults living in it with lots of quarters shown! plus how did it run? petrol? diesel? someone pedaling below? I must also mention my dislike of virtually everyone in action films these days being some kind of martial arts expert and able to defeat multiple enemies without breaking sweat. It really is so over used and in this film its so out of place, what's wrong with some good old fashioned fisticuffs? A nice idea but the execution is weak, worth checking out if you like dragon flicks though...I guess, not much else going for it.
Phil Hubbs
Super Reviewer
½
So they take Ahab's obsession for the white whale and sci-fi spin it to a hunt for a great white dragon. Freudian ruminations aside, and altho this is a poorly budgeted knock off, elements of fun exist in Glover's decision to go for Ahab full on ... has to be seen to be believed.
Kevin M. Williams
Super Reviewer
Straight-to-DVD and with good reason. A watchable, but horribly conceived fantasy feature. The only reason I saw this is because I'm such a sucker for stories about dragons. Otherwise I would have skipped it right off the bat. And now in the aftermath, I really regret that I didn't. Lousy acting and special effects, and the narration is some of the worst I've ever heard. Clearly, whoever voiced this mess just wanted to get it over with so he could collect his paycheck (can't say I blame him though). And as for Danny Glover, he should have kept what little dignity he had left and gone into retirement after Lethal Weapon 4. Because seeing him like this is just sad. Or as Sergeant Murtaugh would say it: "I'm getting too old for this shit!"
Age of the Dragons Quotes
There are no approved quotes yet for this movie.