Agent 38-24-36 (Une ravissante idiote)
(1964)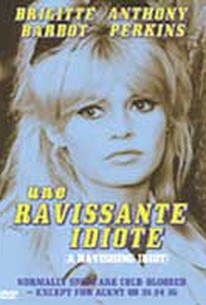 AUDIENCE SCORE
Critic Consensus: No consensus yet.
Movie Info
French sex symbol Brigitte Bardot stars as Penny, a scatterbrained young lady who is a beautician to the wife (Denise Provence) of British security chief Dumfrey (Andre Luguet). Harry (Anthony Perkins) is a young man of Russian origin enamoured by Penny--who is more than what she seems. Harry has just lost his job at the bank and begins dealing with his father's old crony; a Soviet agent (Gregoire Aslan) attempting to get ahold of certain British documents containing NATO secrets. Dumfrey uses Penny and his wife in an attempt to uncover the Russian espionage operation. ~ Kristie Hassen, Rovi
Critic Reviews for Agent 38-24-36 (Une ravissante idiote)
There are no critic reviews yet for Agent 38-24-36 (Une ravissante idiote). Keep checking Rotten Tomatoes for updates!
Audience Reviews for Agent 38-24-36 (Une ravissante idiote)
½
"Une Ravissante Idiote" starts with Nicolas Sergueievitch Miloukne aka Harry Compton(Anthony Perkins) trying desperately to work up the courage to say hello to Penelope Lightfeather(Brigitte Bardot), a beautiful blonde Communist seamstress. At least, he is brave enough to rescue her shoe from a vicious attack poodle. Sadly, that makes him late returning from lunch for the umpteenth time, causing him to be fired. At least, Bagda(Gregoire Aslan), his Soviet handler, has a job for him stealing NATO secrets from Sir Reginald Dumfrey(Andre Luguet). Unbeknowst to them, Dumfrey and the Admiral(Jacques Hilling) have set a trap for them with fake files. Which Harry would have gotten away with if the vacuum cleaner he was using as a prop had not decided on the worst possible moment to achieve sentience. "Une Ravissante Idiote" is an old fashioned screwball comedy that is enjoyable due to, not despite of, the unique pairing of its stars which goes beyond simple beauty and the dork chemistry. What is weird is Anthony Perkins speaking French, like everybody else, in a movie set in England. What are not are his comedic chops which he rarely got a change to fully utilize like he does here. So, it is a shame that there is an actual plot to get in the way of the fun at times, especially considering how convoluted it can be in its Cold War spies vs. spies milieu, not to mention having no idea who one character was at the end of the movie.
This was a really funny movie, I wasn't sure if the combination of Perkins and Bardot would work, but I was pleasantly surprised. I really liked this movie, the question is who's really the idiot? Bardot's character or Perkins? This is a fun spy comedy, and I recommend seeing it.
Agent 38-24-36 (Une ravissante idiote) Quotes
There are no approved quotes yet for this movie.