Agent Red
(2000)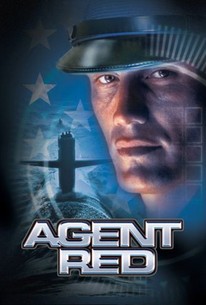 AUDIENCE SCORE
Critic Consensus: No consensus yet.
Movie Info
A group of renegades who hold the fate of the world in their hands meet their match in an army of one in this action thriller. Matt Hendricks (Dolph Lundgren) is a Special Forces officer with the United States Marines whose significant other, Dr. Lynda Christian (Meilani Paul), is a scientist specializing in virus research. Lynda, on a high security assignment with the government, is travelling from Russia to the United States via a U.S. Navy submarine; she and Matt have had a serious argument, and in hopes of patching things up, Matt arranges to come back to America on the same sub. However, their romantic problems soon take a back seat to more pressing concerns. Lynda is helping to escort a cache of Agent Red back to the States; Agent Red is a powerful biological weapon, with no known antidote, that could kill the population of a major city in a matter of hours. Word of the deadly cargo has leaked out to a group of fanatical Russian terrorists, who have ambushed the sub and stolen the powerful virus. The terrorists have threatened to release Agent Red in New York and Moscow via the sub's missile system if their demands aren't met, and Matt becomes the world's last defense against destruction as he takes on the invaders. Agent Red was also released under the title Captured.
Critic Reviews for Agent Red
There are no critic reviews yet for Agent Red. Keep checking Rotten Tomatoes for updates!
Audience Reviews for Agent Red
½
A Joke is what this movie is. Right from the opening scene with what's supposed to be United States Marines on a mission, the face paint alone tells you what Hollywood thinks of our fighting forces and there missions. If you ever see a Marine in the shape or with the hair these actors have you are not looking at US Marines. I have yet to see a movie with Dolph Lundgren in it where he was nothing more then a idiot. The movie is about a Virus called Agent Red that is being transported back to the US via Submarine, but Russian terriost have take over the sub and Dolph single handily saves the day, kills all 12 terrorist and pilots the submarine all by himself with the help of his fiancée Meilani Paul. The lines in the movie are funny but way out of place, American actors who are supposed to be Russians lose there Russian accent at times, like I said a joke. So why would I buy such a movie because it was in the $3 bin at Big Lots. 1 1/2 stars and I am being very nice.
Bruce Bruce
Super Reviewer
This is probably Dolph Lundgren worst movie besides Stormcatcher. The first complaint is the glaring inconsistencies. Having American's flying MIG's, having air-to-air missiles turning into torpedos when they hit the water. The fact that the submarine looked like an oil refinery rather than something where space is of a premium or maybe the lack of any attempt at military accuracy. Then there is the horrible characters. Every Russian shown was either a terrorist or drinking vodka. All the Americans were caricatures of real people, and they kept saying "God help us". So much of the footage was stolen from other movies it is laughable. They included a female terrorist basically so she could have a cat-fight with Dolph Lundgren's fiancee. Basically this movie is a very cliché action movie that is not in anyway stylish or well scripted but it is funny, notably the bad Russian accents and the puns, so at least the makers of this new they were not making a classic, overall this is not horrendous but is still pretty bad,you could quite easily stomach the full 90 minutes on a good day, if only for the hilariously cheesy dialogue but if you have a choice between this and an earlier Dolph Lundgren flick the place this nicely back on the shelf.
Steven Vincent Gee
Super Reviewer
Agent Red Quotes
There are no approved quotes yet for this movie.