Agnes of God
(1985)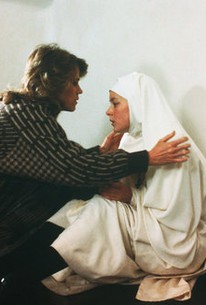 Movie Info
Agnes of God is an "opened up" adaptation of the minimalist stage play by John Pielmeier. Meg Tilly plays a young nun who secretly gives birth to a baby; the child's body is later found strangled to death. Court-appointed psychiatrist Jane Fonda is sent to the convent to investigate, a task made difficult by the weathervane behavior of mother superior Anne Bancroft. To draw out Tilly, who remembers nothing of the birth, Fonda suggests that hypnosis is called for. Playwright Pielmeier poses many questions--is Tilly a pure-and-simple murderess, or was there something "divine" in her act?--but offers frustratingly few answers. The evocative photography is by longtime Ingmar Bergman associate Sven Nykvist. ~ Hal Erickson, Rovi
Critic Reviews for Agnes of God
Audience Reviews for Agnes of God
½
There are a lot of miscalculations by Jewison and Pielmeier here . . . the most damaging one is expanding the world of a small three person play into a movie with a larger cast and setting. This has the effect of making the film a mystery where the characters occasionally debate religion, where the play is mostly the latter and far more moving. Also, Fonda is horribly miscast . . . but I do like Bancroft and Tilly.
Alec Barniskis
Super Reviewer
½
A powerhouse cast and a compelling story presented here by director Norman Jewison and beautifully filmed by cinematographer Sven Nyquist combined to make this a marvelous film. Meg Tilly radiates beauty, faith, and simplicity as Sister Agnes, a novice in an unnamed monastic order of nuns who is accused of murdering her newborn child. Jane Fonda plays a court appointed psychiatrist whose duty is to render a diagnosis that will allow the church and the courts to sweep this case under the rug, but who fights to find out what really happened. More detective than doctor, she follows the trail to wherever it leads, to the consternation of all. And Anne Bancroft, as the Mother Superior with her own secrets, wants this ordeal to be over before her own failures are revealed. Some of the early scenes, as the story was being set up, left this viewer a little confused and the relationship between the good doctor and a sympathetic police detective was largely unexplained. But, except for those shortcomings, this was a powerful film dealing with innocence and guilt and faith versus skepticism in a wholly believable manner. Questions remain, but the verdict rendered by the court seems just and fair, and the clash between faith and reason is not settled, but has reached a truce. One feels that an unlikely friendship has been established and that the good Dr Livingstone and Mother Superior Miriam Ruth share a mutual respect for one another as a result of these events.
Mark Abell
Super Reviewer
People don't seem to believe that this film translates well in the present day but I still find it fascinating. Mind you, you can sort of take a wild guess as to what Agnes' grand secret is well before it is revealed on film.
John Ballantine
Super Reviewer
Agnes of God Quotes
There are no approved quotes yet for this movie.