The Agony and the Ecstasy
(1965)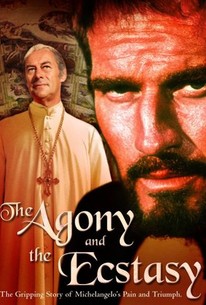 The Agony and the Ecstasy Photos
Movie Info
Adapted by Philip Dunne from the novel by Irving Stone, The Agony and the Ecstacy is the story of the 16th century war of wills between Renaissance artist Michelangelo (Charlton Heston) and "warrior pope" Julius II (Rex Harrison). Commissioned to paint a religious fresco on the ceiling of the Sistine Chapel, the independent-minded Michelangelo balks at the assignment. He is virtually strongarmed into accepting the job by Pope Julius, who wants to leave something for future generations to remember him by. Director Carol Reed deftly juggles screen time between the Pope's activities on the battlefield and Michelangelo's slow, arduous completion of his monumental task. The film also gingerly approaches the subject of Michelangelo's sexual orientation vis-a-vis his relationship with the Contessina de Medici (Diane Cilento). Too long and limited in subject matter to score at the box office, The Agony and the Ecstacy holds up pretty well when seen today, especially when viewed in a wide-screen print. ~ Hal Erickson, Rovi
Critic Reviews for The Agony and the Ecstasy
All Critics (7) | Fresh (6) | Rotten (1) | DVD (1)
Required viewing for the fan of pious filmmaking or the cinematographer in film school. From a story and character perspective, it's sadly very forgettable.
For some viewers, the agony will be watching Charlton Heston (over)act, and the ecstasy Rex Harrison. But it IS refreshing for a period film to cover such new and (pun intended) artistic ground.
As a chronicle of the artist Michelangelo, this is one of Carol Reed's most underwhelming films, though some of the production values are good.
Audience Reviews for The Agony and the Ecstasy
What makes this film fascinating is the conflict between the two characters, which is centered mostly on a great dialogue that explores the motivations and creative process of a genius, with Charlton Heston delivering his typical overacting and Rex Harrison as magnetic as always.
Carlos Magalhães
Super Reviewer
½
The battle of wills between Pope Julius II and Michaelangelo that culminated in the painting of The Sistine Chapel. Worth a watch.
Marcus Woolcott
Super Reviewer
½
Charlton Heston and Rex Harrison portray two of the Renaissance's most colorful figures in this brilliant historical epic drama based on Irving Stone's best selling novel. When Pope Julius II(Harrison)commissions Michelangelo(Heston) to paint the ceiling of the Sistine Chapel,the artist initially refuses. Virtually forced to do the job by Julius,Michelangelo later destroys his own work of art and therefore flees Rome. Nominated for three Oscars including Best Supporting Actor(Harrison),Best Director(Carol Reed),and Best Cinematopgraphy and was named of the year's best films by the National Board of Review,"The Agony and the Ecstasy" is a fascinating dramatization behind one of the world's artistic masterpieces. Filmed on location in Italy and Spain and shot in brilliant Todd-AO and Color and directed by the great British director Carol Reed,Charlton Heston and Rex Harrison(in their first and only film together)give two of the screen's best performances.
Mister Caple
Super Reviewer
The Agony and the Ecstasy Quotes
There are no approved quotes yet for this movie.