A.I. Artificial Intelligence
(2001)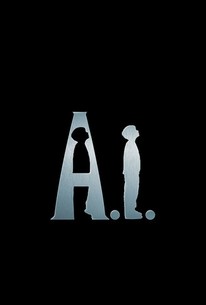 TOMATOMETER
AUDIENCE SCORE
Critic Consensus: A curious, not always seamless, amalgamation of Kubrick's chilly bleakness and Spielberg's warm-hearted optimism, A.I. is, in a word, fascinating.
A.I. Artificial Intelligence Videos
A.I. Artificial Intelligence Photos
Movie Info
Based on the 1969 short story "Super-Toys Last All Summer Long" by Brian Aldiss, this science fiction fantasy bears similarities to Pinocchio (1940) and originated as a long-gestating project of director Stanley Kubrick that passed to his friend Steven Spielberg after Kubrick's death. Haley Joel Osment stars as David Swinton, a young boy of the future, living in a time when the polar ice caps have melted and submerged many coastal cities. It's also a time when humans live side by side with "mechas," or sentient robots. When David discovers that he is not the biological son of his parents Henry (Sam Robards) and Monica (Frances O'Connor), but a cutting-edge robotic child meant to replace a natural son who died, he sets out to learn what he can of his true nature. Along the way, David is mentored by an entertainment and pleasure-providing mecha named Gigolo Joe (Jude Law). William Hurt, Brendan Gleeson, and narrator Ben Kingsley co-star in A.I., which was adapted from Kubrick's treatment by Spielberg, who takes his first crack at screenwriting since Close Encounters of the Third Kind (1977).
Critic Reviews for A.I. Artificial Intelligence
Audience Reviews for A.I. Artificial Intelligence
½
mr. spielburg's continuing attempt to find the real filmmaker hiding inside of him...although still interesting
Kevin M. Williams
Super Reviewer
Lucas Martins
Super Reviewer
A.I. Artificial Intelligence was a project originally started by director Stanley Kubrick, but never completed due to his death in 1999, and taken over by Steven Spielberg. Spielberg would craft this film based on notes that Kubrick left behind and was able to make a captivating, engaging picture that enthralled the viewer. The film has some striking visuals and wonderful acting along with a richly detailed storyline that grabs your attention from start to finish due to its intricate concept. Spielberg manages to make a fine picture here, and it's very interesting what he does with the material of another director, who unfortunately never got to make the film. However, with that being said, Spielberg manages to make something that is well constructed, entertaining, and thought provoking and memorable. As well as solid direction from Spielberg, he has a talented cast to work with, which only enhances the film's experience. A.I. Artificial Intelligence is a wonderful Sci Fi picture that displays a stunning amount of creativity and wonderful ideas. The film deals with an interesting subject, one that makes you ask questions, and that's what keeps you involved in the film. The fact that it makes you think with its concept is the key factor to the film's entertainment factor. The best way I would describe the film is a spider web of thought, a film that just amps up its ideas to make them standout more due to its intricate plot and direction. Fans of the genre will surely enjoy this riveting picture, and I must admit, I didn't expect to enjoy the film the way I did, but I was pleasantly surprised by the result. Upon watching the film you must ask yourself, how this film would have turned out if Stanley Kubrick would have had the opportunity to direct it if he hadn't died. Who know how much more ambitious the film would have been. Nonetheless, Spielberg managed to create something quite entertaining, captivating and memorable. A.I Artificial Intelligence is a worthwhile viewing experience that is enthralling right up to the final shot.
A.I. Artificial Intelligence Quotes
| | |
| --- | --- |
| Monica Swinton: | I'm sorry I didn't tell you about the world. |
| | |
| --- | --- |
| Professor Hobby: | You are a real boy. At least as real as I've ever made one. |
| | |
| --- | --- |
| David: | Please make me a real boy? |
| | |
| --- | --- |
| Monica Swinton: | I can't accept this! There is no substitute for you own child! |
| Monica: | I can't accept this! There is no substitute for your own child! |