Aimée & Jaguar
(2000)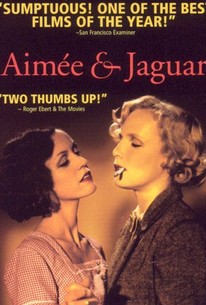 TOMATOMETER
AUDIENCE SCORE
Critic Consensus: A gripping examination of sexual taboos, set against the backdrop of Nazi Germany, bolstered by a subtly shaded script and a strong cast.
Movie Info
Based on a true story, Aimée & Jaguar is a love story and historical drama about a liaison both forbidden and dangerous. Set in Berlin during World War II, Aimée & Jaguar tells the story of Felice (Maria Schrader), a reporter with a Nazi newspaper who has two secret lives. Felice is actually a Jew who smuggles classified documents to underground forces working against Hitler; she's also a lesbian who spends her nights in gay clubs with her lover, Ilse (Johanna Wokalek). Ilse works as a maid for Lilly (Juliane Kohler), the wife of a Nazi soldier with four children and a handful of male lovers. Felice meets Lilly and is immediately attracted to her. As Germany begins to lose ground to Allied forces, Felice becomes bolder in her work with the underground. Similarly, Felice's feelings for Lilly grow, and one day she kisses her on a reckless impulse, to discover that Lilly is drawn to her as well. A passionate romance blooms between the two women as Nazi forces begin to crumble and Felice courts danger at every turn. This handsomely staged production was the feature-film debut from director Max Faerberboeck, whose previous credits include extensive stage and television work.
Critic Reviews for Aimée & Jaguar
Audience Reviews for Aimée & Jaguar
i really liked this movie. Another one of my Library Media finds.
Great, great film. Touching, historically mostly accurate and great acting.
Aimée & Jaguar Quotes
There are no approved quotes yet for this movie.