Airport 1975
(1974)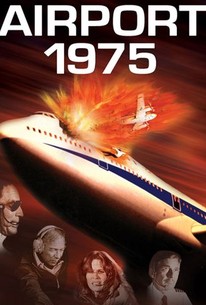 Movie Info
Disaster thriller in which a 747 crashes in mid-air with a small private plane and is left pilotless. A female flight attendant tries to rescue it and land the doomed airplane.
Critic Reviews for Airport 1975
Audience Reviews for Airport 1975
Pretty good sequel to Airport that is more of the same. The problem with these films is that they predictable, thus you know how it'll turn out. There's a slight variation in the plot with a twin engine plane slamming in the side of a Boeing 747 instead of a blizzard and a bomber, like in the first film. This sequel has a good cast, but like the first film, suffers from a so-so script that has limited potential. Airport 1975 is entertaining, but lacks effective build up, and the climax isn't that great. It's good fun from start to finish, but it's never anything special. The direction is unfocused at times, but it improves over the first one by being a bit more serious and not including tongue in cheek moments such as the stowaway in the first film, which was pretty annoying and made the film silly. If you're looking for a mindless disaster film, this is a good sequel, but it never is great. As a whole, this film is basically the same film as the first, except for a different plot, so don't expect anything new or really exciting. What's supposed to be thrilling is at times dull, but strangely this is still a good flick. I would view this one as a guilty pleasure. What's fun about this flick is that despite the fact it's a disaster film, it's one that you can't take too seriously, but that's what makes it good entertainment in the end. Nothing too special in terms of a sequel, this one still has enough entertainment value to make it worth seeing.
½
Remember watching a few of these airport disaster films as a kid, always had a big budget for the time and A list actors, not bad films but ended up being quite a few in the end. Ok to pass the time.
½
I liked this Airport sequel a bit better than the first, but it still isn't as good as a disaster movie could be.
Airport 1975 Quotes
There are no approved quotes yet for this movie.