Aladdin and the King of Thieves
(1995)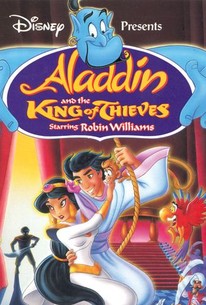 Aladdin and the King of Thieves Photos
Movie Info
In Disney's second straight-to-video sequel to Aladdin, Aladdin (voice of Scott Weinger) and Princess Jasmine (voice of Linda Larkin) have finally decided to marry, but when the big day finally arrives, the ceremony is thrown into chaos by the unexpected arrival of the Forty Thieves, who are searching for the enchanted Hand of Midas, a charm that will turn all it touches into gold. Aladdin makes the shocking discovery that his father (voice of John Rhys-Davies), long believed dead, is actually the leader of this infamous band of thieves, and when his father falls into peril, Aladdin must rescue him -- with the genie of the lamp (voice of Robin Williams) on hand to help. Robin Williams, whose voice work was considered a key factor in the success of the original Aladdin, returned to the franchise for this film after bowing out of the first sequel, The Return Of Jafar, due to a financial dispute (in The Return Of Jafar, the genie was voiced by Dan Castellaneta). ~Rovi
Critic Reviews for Aladdin and the King of Thieves
Audience Reviews for Aladdin and the King of Thieves
Jim Careter
Super Reviewer
½
While this sequel didn't have the dynamite power of Jafar, it is overall a way better movie and sequel. The addition of the 40 thieves was such a cool concept to bring into the series. Also, it was way too cool to have Robin Williams back as Genie. This has a lot more action than either of the previous movies; concluding with an epic battle on a giant sea turtle with a crazy golden hand. It's simple; if you like Aladdin, you'll like this at least a little. It provides a nice conclusion to Aladdin and Jasmine; who's wedding was interrupted countless times.
Conner Rainwater
Super Reviewer
½
not as good as other disney movies but it is a great film and that says alot for a direct to video disney sequel
Michael Edwards
Super Reviewer
Aladdin and the King of Thieves Quotes
There are no approved quotes yet for this movie.