The Alamo
(2004)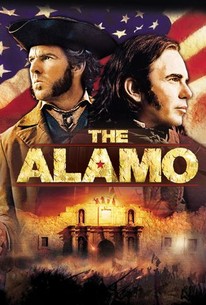 Movie Info
The roads cross at San Antonio de Bexar at a small, ruined mission called The Alamo--a place where myth meets history and legend meets reality. In the spring of 1836 nearly 200 Texans--men of all races who believed in the future of Texas--held the fort for thirteen days under siege by General Antonio Lopez de Santa Anna, ruler of Mexico and commander of its forces. Led by three men--the young, brash Colonel William Travis; the violent, passionate James Bowie; and the larger-than-life living legend Davy Crockett--the Texans and their deeds at the Alamo would pass into history as General Sam Houston's rallying cry for Texas independence. As well, their actions would become legend for their symbolic significance.
News & Interviews for The Alamo
Critic Reviews for The Alamo
Audience Reviews for The Alamo
½
A good historical film, but I've seen better. Quaid has one of his best performances (in my opinion), but that's not saying much. Thornton was good. Jason Patric and Patrick Wilson were m'eh.
Christian C
Super Reviewer
The Alamo was just not a good film. I did not like the acting, it was overdone and there's too much talking going on. The film tried to portray some men as heroes when, for example, the character Jim Bowie just seemed like a drunkard, slave-owning bastard (maybe America tries to portray him as a hero when in my perception he's not?. It's just not an interesting film.
The Alamo is the perfect example of a film that really good, but has gotten so much bad press because it was a box office bomb. The Alamo is a very underrated film that is an interesting history lesson as well as an entertaining film. Yes, it's a period piece, and it doesn't have exciting, thrilling explosion. But the film is nonetheless an accomplished piece of work with a good enough cast to keep the viewer interested. I would recommend this film to people interested in history, and those interested in the Battle of the Alamo. There's a pretty good cast at hand here, and the film is one of those films that shouldn't be dismissed. The battle scenes are impressive, and will appeal to history buffs for sure. I think it's always impressive to see real events recreated and I thought that John Lee Hancock created a worthwhile historical film that will definitely appeal to history buffs. The Alamo shouldn't be regarded as a bad film. Just because the film bombed, doesn't mean films suck. There are tons of great films that have failed at the box office. If you're interested in the subject, then I recommend watching this film. But to the others expecting a solid action film, you will be sadly disappointed. A must see film for the history buff.
The Alamo Quotes
| | |
| --- | --- |
| Davy Crockett: | We're going to need more men. |
| | |
| --- | --- |
| Davy Crockett: | If it was just me, simple old David from Tennessee. I might drop over that wall some night and take my chances. But that Davy Crockett feller...they're all watching him. |