Alex Rider: Operation Stormbreaker
(2006)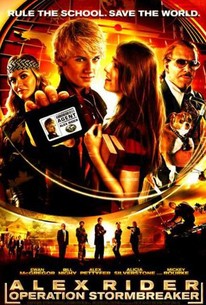 TOMATOMETER
AUDIENCE SCORE
Critic Consensus: Alex Rider: Operation Stormbreaker is strictly children's fare, as it lacks originality, excitement, and believabiltity.
Alex Rider: Operation Stormbreaker Photos
Movie Info
An outwardly ordinary teenager finds himself suddenly thrust into extraordinary circumstances upon discovering that his entire youth was part of an elaborate plan to create the perfect super spy in director Geoffrey Sax's action-packed adaptation of author Anthony Horowitz's best-selling series of novels featuring an adolescent secret agent. Alex Rider (Alex Pettyfer) always though that his kindly uncle Ian (Ewan McGregor) was your average, everyday nondescript bank manager, but when Ian was murdered by notorious assassin Yassen Gregorovich (Damian Lewis), everything young Alex thought he knew would be forever changed by one simple bullet. A deadly martial artist, skilled linguist, steady-handed mountaineer, and deadeye marksman, Alex realizes that his uncle has been secretly training him in the art of espionage when he is recruited by MI6 Special Operations agents Mr. Blunt (Bill Nighy) and Mrs. Jones (Sophie Okonedo). It seems that billionaire Darius Sayle (Mickey Rourke) has generously offered to donate a complimentary Stormbreaker supercomputer to every school in Britain, but while his philanthropic offer is welcomed with open arms by the struggling school system, MI6 fears that something nefarious is afoot. Assigned the task of infiltrating Sayle's impenetrable lair by posing as the winner of a computer magazine contest, Alex makes the acquaintance of shady Sayle sidekicks Mr. Grin (Andy Serkis) and Nadia Vole (Missi Pyle) before getting a special sneak preview of the remarkable Stormbreaker's true powers. His cover subsequently blown, Alex is given a key piece of information regarding the remarkable computer before being thrown to a giant jellyfish by Sayle and his henchmen and left to die just as the prime minister is about to push the button that will activate Stormbreaker computers all across Britain. With no time to spare and the fate of a nation hanging in the balance, Alex must now enlist the help of his trusted housekeeper Jack Starbright (Alicia Silverstone) and faithful classmate Sabina Pleasure (Sarah Bolger) in ensuring that the Stormbreaker system is not activated and revealing Sayle for the true villain that he is before the young super spy's breathless first mission becomes his fatal last.
News & Interviews for Alex Rider: Operation Stormbreaker
Critic Reviews for Alex Rider: Operation Stormbreaker
Audience Reviews for Alex Rider: Operation Stormbreaker
½
Fun enough but nothing amazing. Full review later.
Thomas Bowler
Super Reviewer
It was very disappointing!
Nadia Vole: "You are ze first child to experience ze power... ze vorld domination, of ze Stormbreaker. Zis model has already been loaded vis highly developed programs for all aspects of ze school curricular." An outwardly ordinary orphaned teenager student Alex Rider who lives with his uncle, a boring bank manager, or so it seems until his uncle, Ian Rider, disappears under mysterious circumstances. He finds himself suddenly thrust into extraordinary circumstances upon discovering that his entire youth was part of an elaborate plan to create the perfect super spy. Recruited by Mr. Blunt and Mrs. Jones, and armed with special gadgets, he embarks on his first mission. Billionaire Darrius Sayle is donating a free Stormbreaker mega-computer to every school in Britain. But is there more to his generosity than meets the eye? Going undercover, he infiltrates Sayle's compound. He meets the tycoon's sinister sidekicks, vixen publicist Nadia Vole and the disfigured mute Mr. Grin, and tests out the impressive and secretive Stormbreaker computer. While exploring a restricted area, Alex begins to figure out the mysterious Stormbreakers--he knows he's onto something big. Suddenly, Sayle and his evil henchmen capture Alex. Using his cunning and his MI6 gadgets, Alex manages to escape. He hitches a ride to London to stop Sayle from activating the Stormbreakers and releasing their secret weapon throughout Britain. But time is running out. With the help of his housekeeper Jack Starbright and his friend Sabina Pleasure, Alex takes Sayle head-on in a dangerous race against time to stop the evil plan. Within days he's gone from schoolboy to super spy, but will his first assignment be his last? I like action, don't get me wrong. I'm a die hard Die Hard fan, I dig Rambo and his killer mullet and I love Bond, James Bond. But sometimes the action genre only works to a certain extent well for example, if a 14 year old kid turns into a super spy and the fate of the whole world rests on his pre-pubescent stubby little hands, then I think we have a problem. This film is exactly just like that. And I may be alone in this one, maybe not but I think, 14 year old tweens belongs in the school, not in some high class evil lair butting heads with a has been punk rocker Mickey Rourke. It didn't work with Cody Banks and I'm sad to say it didn't work here either. The main problem of this film is that its trying so hard to be a high espionage actioner that it completely forgets that for an action film to work, the story must be on the same level as the action. This one however goes the other way around, it has so much action that the story was completely forgotten. However, everything is not all that bad. Save for a couple of cool action scenes and Bill Nighy. After that, its sad to say everything goes downhill. 2/5
Lorenzo von Matterhorn
Super Reviewer
Alex Rider: Operation Stormbreaker Quotes
There are no approved quotes yet for this movie.