Alexander
(2004)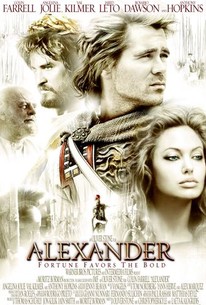 TOMATOMETER
AUDIENCE SCORE
Critic Consensus: Even at nearly three hours long, this ponderous, talky, and emotionally distant biopic fails to illuminate Alexander's life.
Movie Info
The true story of one of history's most luminous and influential leaders, Alexander the Great--a man who had conquered 90% of the known world by the age of twenty-seven. Alexander led his virtually invincible Greek and Macedonian armies through 22,000 miles of sieges and conquests in just eight years, and by the time of his death at the age of thirty-two had forged an empire unlike any the world had ever seen. The story chronicles Alexander's path to becoming a living legend, from a youth fueled by dreams of myth, glory and adventure to his lonely death as a ruler of a vast Empire. Alexander is the incredible story of a life that united the Known World and proved if nothing else, fortune favors the bold.
News & Interviews for Alexander
Critic Reviews for Alexander
Audience Reviews for Alexander
½
Note: this review covers the theatrical version of the film. Oliver Stone's epic portrait of one of the greatest figures in history had the potential to be as epic, mythic, and great as the person it is about. What it turned out ot be instead was a bloated, hollow, unfocused mess filled with bland dialogue and some really out there and stilted performances. It's certainly not for lack of trying though. For this should have been masterpiece, Stone at least assembled an awesome and talented cast that includes Colin Farrell, Angelina Jolie, Val Kilmer, Jared Leto, Anthony Hopkins, Rosario Dawson, and an all too short appearance by Christopher Plummer. Farrell was a decent enough choice, but I' not sure I really like the characterization all that much. Kilmer was okay, but seemed to be channelling his take on Jim Morrison a bit much. Jolie started off fine, but could have stood to dial it down quite a bit, and go for something more subtle and nuanced. Same goes for Rosario, and once again, Stone makes a film where women unfortunately get the short end of the stick. Hopkins was okay, but seemed better suited for a better film. Leto was likewise fair, but sorta came off as a bit too fey. I liked that the film tried to tackle many facets of Alexander the Great's life, personality, and career, and had some decent themes to it, but it all comes off as really overblown, a tad pretentious, and actually rather boring and meandering. For someone as colorful as Alexander, this shouldn't be the case. The battle scenes are epic, really well done, and some of the best parts of the film, but sadly they are too few and far between, which is a problem when the film has a 175 minute running time and all the other stuff, which good at times, becomes really difficult to sit through. I will give the film props for having a historical advisor on board (though oddly uncredited for whatever reason), and the costumes, period details, and all that are top notch, as are the cinematography, and Vangelis's score (which is atypical of what he usually does). Overall though, I'm not on board, even though I really wanted to be. I'd like to think that I knew what Stone was going for, but I can't really figure it out. Maybe I need to see one of the other cuts he came out with, since those are supposedly better. As this one stands though, it's not a failure, but it's still an average, out of control and unbalanced mess.
Chris Weber
Super Reviewer
The version of Alexander I'm reviewing is the second or director's cut, which may or may not have some bearing on whether I influence anyone else as to whether or not they want to view this film. To be concise, this really stunk. It's a ponderous train wreck of a film, and I couldn't wait for it to end. Whether or not Oliver Stone took liberties with the truth as we know it is irrelevant. It is an incoherent, terrible movie. It is dull and ridiculously over-acted, especially by Farrell and Jolie. Normally I like Anthony Hopkins, Rosario Dawson, and even Val Kilmer sometimes but not much here. I felt sympathy for Dawson's character as well as the actress herself. The action plays something like the sword and sandal epics of the 1950s, and the battlefield scenes are passable. The "rousing" speech delivered by Farrell on the eve of battle is silly and pretentious though, just like this over burdened film. Stone does aim high, much too high, and maybe that's why this movie crashes. Alexander's story is a compelling human as well as historical story, but Stone doesn't do him justice here. Many say that the longer, final cut is markedly better, that it is more coherent. I don't know, not having seen it, but in the interest of fairness, I do not dismiss it. If you are into epics like Gladiator, Troy, and Kingdom of Heaven, you may want to consider watching it. If you end up with an Oedipal complex though, don't say I didn't warn you.
Clintus Maximus
Super Reviewer
½
Being a die hard history buff, I was quite looking forward to seeing this. Well, when I did I was very disappointed in what I saw. Alexander is a total mess of a film. Everything about the film misplaced. Oliver Stone crafts a film that's based more on fiction than fact. The film is filled with inaccuracies. Considering there is so much documentation on Alexander the Great at hand, you'd think they would at least create a film based on facts, right? But this is Hollywood, so they'll take as much creative liberties as they want without staying true to the historical facts. There are some truly dreadful performances here such as Angelina Jolie and Val Kilmer. Colin Farrell isn't that great either, but he's better than Kilmer and Jolie. Alexander has decent action scenes, nothing great, and the film doesn't really do anything exciting. I thought that Troy was a superior film and that Alexander missed the mark in trying to deliver epic battles scenes. Considering that this film is after all based on Alexander the Great, they could've done something spectacular with the film. Instead, the film misses the mark, and fails to delivers anything grand and interesting on-screen. As a person who's interested in history, I really can't recommend this film because it's really flawed, and above all it has awful acting, and the film drags far too long for this story to be told. If it would've been told right, then the length of this film wouldn't have been a problem, but this is a badly acted and directed mess that just fails to get the facts right.
Alexander Quotes
| | |
| --- | --- |
| Alexander: | But I am Alexander. And no more than Earth has two suns, will Asia bear two kings. |
| | |
| --- | --- |
| King Philip II: | All your life, beware of women, Alexander. They are much more dangerous than men. |
| | |
| --- | --- |
| Alexander: | You can run to the end of the earth, you coward! But you'll never run far enough! |
| | |
| --- | --- |
| Roxane: | You l-love him? |
| Alexander: | There are different kinds of love Roxane |
| Alexander: | There are different kinds of love Roxane. |