Alexander the Last
(2009)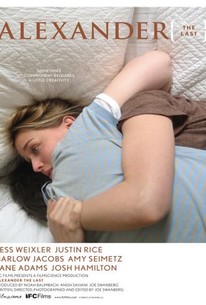 Alexander the Last Photos
Movie Info
A sensual and intimate portrait of a young marriage that focuses on an artistic young couple, "Alexander the Last" illuminates the challenges of monogamy amidst myriad sexual and creative temptations.
Critic Reviews for Alexander the Last
Audience Reviews for Alexander the Last
½
While Alex(Jess Weixler) is rehearsing for a play, her husband Eliott(Justin Rice) is on tour with his band. Jamie(Barlow Jacobs), a fellow actor in the play originally from Tennessee, needs a place to stay , so she offers him one of their couches. It is there that he comes to the attention of Alex's sister, Hellen(Amy Seimetz), a photographer. So much so, that he gets invited along to clothes shopping with the sisters. "Alexander the Last" is a soulful and sensual exploration of the conflict between the creative and personal lives of artists. While it might be easy to go with the whole reality versus fiction dichotomy, I think a better route would be a permanent versus temporary contrast.(That having been said, there is a bravura sequence where director-editor Joe Swanberg cuts back and forth between Alex and Jamie rehearsing a sex scene and Jamie and Hellen having sex.) Whereas marriage is expected to be permanent, a play's run or a band's tour is only for so long, before returning home to somebody special. After each project is completed, the artist moves on to the next project with a different set of collaborators. I think that's why marriages started while working on a film or television series never seem to last, no matter how intense the initial feelings.
½
A film that investigates intimate relationships, sexual temptation, and work that forces one to deal with uncomfortable personal issues. Alex (Jess Weixler) is an actress whose marriage to Elliot (Justin Rice), a musician, is on shaky ground, although they are obviously in love. Alex gets a part in a local stage production in which she must portray intimacy with her costar, Jamie (Barlow Jacobs), at the same time that Elliot leaves on tour. As the film unfolds, we see issues of trust, suspicion, and jealousy play out before us. Yes, it is not obvious that all this is going on, and there are times when this viewer wasn't even sure who was doing what to whom, but to say it was totally disjointed and incoherent is not fair to the film or the actors. This is not a prettily packaged, predigested bit of pablum. One does have to do some work here to connect the dots, but the film feels authentic, and the emotions are easily discernible. The dialog, unfortunately, seemed awkward rather than natural and was too obviously improvised. The film would have benefited from more direction on that score. The constant micro-managing by the stage director, played by Jane Adams, brought just a touch of humor to the production, just because it was so over the top meddlesome. The scenes with Elliot and his (female) band mate (Jo Schornikow), rather than adding another layer of sexual tension, seemed designed to bring music in as a natural element of the film, rather than as a mood enhancer. And the music, played by the actor/musicians themselves, was actually quite good. This was mercifully short at just over an hour, but seemed quite a bit longer, only because so little action really occurred.
Mark Abell
Super Reviewer
½
It seemed superficial to me and I felt that it didn't really accomplish anything...like a story or a well formed plot.
Lovable Misanthrope
Super Reviewer
Alexander the Last Quotes
There are no approved quotes yet for this movie.