Alexander's Ragtime Band
(1938)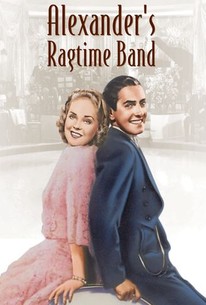 Alexander's Ragtime Band Photos
Movie Info
A 1938 classic musical that showcases 28 of Irving Berlin's most memorable ragtime tunes begins in 1915 San Francisco when society boy Roger Grant decides to pursue popular rather than serious music. It's a story of love, war and music spanning 30 years.
Critic Reviews for Alexander's Ragtime Band
Audience Reviews for Alexander's Ragtime Band
This movie has a great cast, but it was so boring I couldn't watch it all.
"Alexander's Ragtime Band" was another Best Picture nominee in 1938. It was a showcase for Irving Berlin's music, which was such a sensation at the time. But it was more than that. Directed with effortless ease by Henry King and edited superbly, the film is a delight from start to finish. Its heartfelt love story is brought to life exuberantly by Alice Faye and Tyrone Power, neither of whom ever received Oscar nominations despite having been major stars for decades. I'm embarrassed to admit it, but this is my first time seeing Faye and Power. I can now confidently say that Faye deserves to be better known among cinephiles today. The fact that she didn't receive an Oscar nomination for "Alexander's Ragtime Band" strikes me as a classic case of the Academy's unfair privileging of drama over musicals and comedies. Faye here has to pull off a lot more than musical comedy. She has to convey heartbreak through many scenes in the second half of the film, and she does so in a deeply convincing way. Also noteworthy is co-star Don Ameche, who has almost as much screen time here as Power. He does a great job in the role of Power's sidekick. (Ameche, incidentally, received his one and only Oscar when he was an old man, winning Best Supporting Actor in 1985 for the film "Cocoon.") "Ragtime Band" is not much more than melodrama, however, and ultimately is rather superficial. But it delivers its message winningly and with a lot more cinematic skill and aplomb than any of the other Best Picture nominees I've seen thus far in my study of 1938. Next up on my list: "Boys Town," starring Spencer Tracy in a performance that won him the Best Actor Oscar that year, and "Pygmalion," with Leslie Howard and Wendy Hiller, both of whom were nominated for Oscars that year.
William Dunmyer
Super Reviewer
A fun film but a little inconsistent. There were some truly memorable films in the thirties and ones that get steady airplay. I found this one hard to find and after seeing it, I kind of understand why.
John Ballantine
Super Reviewer
Alexander's Ragtime Band Quotes
There are no approved quotes yet for this movie.