Ali
(2001)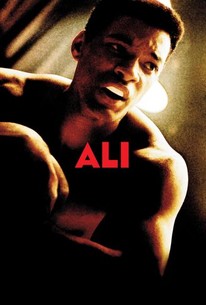 TOMATOMETER
AUDIENCE SCORE
Critic Consensus: Though perhaps no film could fully do justice to the fascinating life and personality of Muhammad Ali, Mann's direction and Smith's performance combine to pack a solid punch.
Movie Info
The life story of heavyweight boxing champion Muhammad Ali, following the champ's early days as Cassius Clay and his rise in sports and politics, including his controversial refusal to fight in the Vietnam War and his infamous comeback battles against Joe Frazier and George Foreman.
News & Interviews for Ali
Audience Reviews for Ali
This movie is probably Will smiths best movie. Will smith is a brilliant actor. He plays the legendary boxer Muhammad Ali. I expected more of a boxing movie but it was more about religion and Alis life outside of boxing. Muhammad Ali was a Muslim and he worshiped Elijah Muhammad. Elijah Muhammad was the leader of nation of Islam, and Muhammad Ali wanted to spread hes message thru boxing. Muhammad Ali was a smart boxer, he made hes opponents angry before the match by teasing them and calling them names. This is a movie you probably have to see, probably one of my favorite movies. "Floats like a butterfly, stings like a bee. You're hands cant hit what you're eyes cant see" 4 Stars 4-7-14
Bruce Bruce
Super Reviewer
Michael Mann's Ali is an average boxing film about the Muhammad Ali, one of the most famous boxers who has ever lived. Unfortunately, I felt that this film wasn't a testament to his career, and though good, it leaves a lot to be desired. Will Smith is pretty goods ion the lead role, and he departs from his usual action films by delivering a dramatic performance. However, this is not a standout feature like Scorsese's classic Raging Bull. Mann is able to craft some terrific films, however this is one of his weaker one. Considering the subject, you'd expect something truly great, but the end result is a film that has plenty of flaws. I liked it, but I felt that it could have been much better than what was filmed. Will Smith is for me, a decent actor, and with this film, was his first real dramatic role, as he was more of an action star in the first place. He would later make better dramatic films, but Ali leaves a lot to be desired, especially considering that the subject is about one of the most famous boxers in the history of the sport. This should have been much better and it is one of those films that never realizes its full potential. The script should have been reworked to make it a much better picture that told a truly engaging story. Ali is an average film that never really satisfies. I feel that the ultimate biopic on Muhammad Ali has yet to be made. Michael Mann has made better films, but as it is Ali is good, but is far from a great picture.
½
This biopic concentrates on the period between Muhammad Ali gaining the heavyweight championship of the world as Cassius Clay, through to when regained it at the "Rumble In The Jungle" ten years later. Will Smith (minus the face fuzz) was the obvious and perfect casting choice for a charming, charismatic motor-mouth and he is completely believable as the legendary fighter, but he is also surrounded by a supporting cast who are all knockout themselves; particularly an unrecognisable Jon Voigt as the sportscaster and long time friend Howard Cosell, Jamie Foxx as his junkie sidekick and even Mario Van Peebles proves he can actually act given the right material as Malcolm X. I would have liked to have seen more of the political climate during these years of the civil rights movement but Mann's visuals are as stylish as always and he finds a nice balance between the man's sporting and personal lives. Ali may not be perfect (those with no interest in boxing will no doubt be left cold) but it is a fitting testament to a sporting icon who was not only incredibly gifted, but also a true role model and ambassador for his sport.