Alice, Sweet Alice (Communion)
(1976)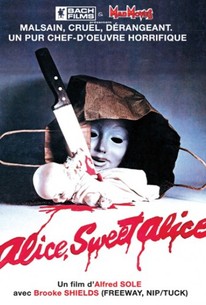 Alice, Sweet Alice (Communion) Photos
Movie Info
The shockingly brutal murder of a little girl in a church where she was just about to receive her first Communion sets a strong tone for terror in this disturbing horror film. The prime suspect in the death of Karen Spages (Brooke Shields) is her sister, Alice (Paula Sheppard), who happily tormented Karen by donning a mask and a raincoat to scare her. Comforting the grieving mother, Catherine Spages (Linda G. Miller), is her sister, Annie (Jane Lowry); local priest Father Tom (Rudolph Willrich); and Catherine's estranged husband, Dominick (Niles McMaster). Other characters include Father Tom's quirky housekeeper, Mrs. Tredoni (Mildred Clinton); a pair of detectives (Tom Signorelli, Michael Hardstark); and Catherine Spages' obese, cat-loving landlord (Alphonso De Noble). While the police investigation and all visual clues quickly point to Alice, director Alfred Sole manages to cast doubt on the killer's identity while the masked madman strikes several more times. About two-thirds of the way through the movie, Sole allows the viewer to see the killer. However, he smartly keeps his characters in the dark setting up a tense finale which culminates in yet another bloody slaying on holy ground before the lunatic is finally stopped. ~ Patrick Legare, Rovi
Critic Reviews for Alice, Sweet Alice (Communion)
Audience Reviews for Alice, Sweet Alice (Communion)
½
Very heavily influenced by "Don't Look Now" and about as gory as any slasher film, "Alice, Sweet Alice" is one of the lost gems of seventies' horror. The film features a masked killer, who we come to believe is a young girl named Alice. Throughout the film her family members are harmed, and it seems that she is the culprit. Alice is certainly unstable, as she witnesses violence, she mouths off to the overweight, pedophilic landlord without fear of reprimand, and she threatens her aunt. This thriller balances between the slasher genre and the psychological thriller, as we try to piece together just who the killer is, whether Alice can be stopped, and who is the next person to be killed. Filled with seriously gruesome deaths, this film is really interesting, though it's a bit longer than need be. The only complaint is that there's a lot of overacting from everyone in the cast, and the motive of the killings isn't exactly clear or sensical.
Spencer S.
Super Reviewer
very well done. love the fat guy and his cats. a very young brooke shields dies almost immediately
Stella Dallas
Super Reviewer
½
Alice, Sweet Alice is a unique Slasher film in terms of horror delivery. The film doesn't rely on the old blood and guts routine that so many other Slashers have done. Along with Halloween, and Black Christmas; Alice, Sweet Alice is one of the few Slashers to really have a sense of suspense and atmosphere over bloody content, and it pays off. This is what sets this film apart others in the genre. The use of slowly building up the story and having a few twists is reminiscent of the best Italian Giallo films. The film has a lot more substance than most Slashers. The acting is decent at best, never anything great, but for the most part, it's suitable for this type of film. Many critics have complained about Brook Shields in this film, well she's in here all right, but only briefly. Alice, Sweet Alice is an underrated gem of old school horror cinema. Director Alfred Sole crafts a terrific film that delivers effective shock and will most likely make you feel uncomfortable. This is a pulse pounding film that delivers a unique, horrifying experience, one that will stay with you for a while. The fact that this film is only known because of Brook Shields is unfair to the quality of this film. This film is a standout horror Slasher that relies more on suspense and atmosphere to create its horror than straight forward bloody kills. The film is a Slasher, but is also different from the Slashers of the 80's. With effective kills, great suspense, effective characters; Alice, Sweet Alice is a classic of the genre. A film that shouldn't just be seen as Brook Shield's big screen debut.
Alice, Sweet Alice (Communion) Quotes
There are no approved quotes yet for this movie.