Alien3
(1992)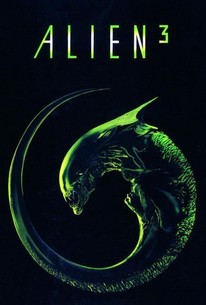 TOMATOMETER
AUDIENCE SCORE
Critic Consensus: Alien3 takes admirable risks with franchise mythology, but far too few pay off in a thinly scripted sequel whose stylish visuals aren't enough to enliven a lack of genuine thrills.
Movie Info
Crash landing on a barren penal-colony planet with an unwelcomed visitor in tow, Ripley (Sigourney Weaver) contends with a group of hardened convicts while using nothing but her wits to battle a terrifying new breed of alien. The sole survivor of her crashed escape pod, Ripley is rescued from the craft by the remaining inhabitants of Fiorina 161, a group of rapists and murders who chose to repent for their sins in deep space after the penal colony was officially decommissioned. When remaining warden Andrews (Brian Glover) announces Ripley's presence to the inmates, their spiritual leader, Dillon (Charles S. Dutton), begins to fear that her presence will stir up trouble. As a result, Ripley is placed in the care of prison doctor Clemens (Charles Dance), and restricted to the infirmary until a rescue ship arrives. But Ripley isn't the only new visitor on Fiorina 161; an alien stowaway survived the crash as well, and it has planted its seed in a feral dog. Before long, a new breed of alien has burst from the dog's chest, a stealthy hunter that moves on all fours and can navigate the darkened prison corridors virtually undetected. When the inmates start to disappear, the remaining survivors must fight for their lives without weapons to defend themselves. The only person who knows the alien well enough to beat it is Ripley, and while her plan to corner and kill the creature just might work, a horrifying discovery reveals that her fight is far from over. ~ Jason Buchanan, Rovi
News & Interviews for Alien3
Critic Reviews for Alien3
Audience Reviews for Alien3
½
Following hard plot-wise on the heels of Aliens (the second movie of the franchise and rightfully revered), is this addition wherein Ripley crash lands on a former prison colony. Guess who comes with her? Now there's 25 supposedly hardened ex-cons on the site, but they scream like a school bus of girl scouts taken to the ice cream shop at the mall once they find out about the other guest (one, count'em, one xenomorph). Is there any yelling, any shouting, any raising of the voice? Oh you bet your stars and garters there's that, bucko. Why Mr. Dutton might not have a single line in the thing delivered with his "inside voice". And all that yelling to get to practically very little going on. I sure hope 4 is better than this, the runt of the litter IMO.
Kevin M. Williams
Super Reviewer
½
Frustrating and poorly made, this third chapter has an intriguing beginning but the development lacks the unbearable tension of the first film and the unstoppable action of the second, while its final act is like a tiresome slasher movie and the CGI of the creature atrocious.
Carlos Magalhães
Super Reviewer
Not as good as the first two.
Alien3 Quotes
| | |
| --- | --- |
| Golic: | In an insane world, a sane man must appear insane. |
| | |
| --- | --- |
| Ellen Ripley: | You've been in my life so long, I can't remember anything else. |
| | |
| --- | --- |
| Dillon: | Why? Why are the innocent punished? Why the sacrifice? Why the pain? There aren't any promises. Nothing certain. Only that some get called, some get saved. She won't ever know the hardship and grief for those of us left behind. We commit these bodies to the void with a glad heart. For within each seed, there is a promise of a flower, and within each death, no matter how small, there's always a new life. A new beginning. |
| | |
| --- | --- |
| Dillon: | You're all gonna die. Only question is how you check out. Do you want it on your feet...or on your fucking knees...begging? I ain't much for begging and nobody ever gave me nothin'. So I say, "Fuck that thing! Let's fight it!" |
| Dillon: | You're all gonna die. Only question is how you check out. Do you want it on your feet...or on your fucking knees...begging? I ain't much for begging and nobody ever gave me nothin'. So I say, 'Fuck that thing! Let's fight it!' |